Spec Extreme Keder
Spezialisierte Schweißmaschine für gleichbleibende, sich wiederholende Keder-Produktion
Für die kostenbewussten Firmen, die Keder produzieren. Die Spec Extreme Keder wurde hergestellt, um Keder zu schweißen, den ganzen Tag, jeden Tag.
Features & Benefits
Einfache Bedienelemente für unkomplizierten Betrieb
Gestell aus vollberuhigtem Stahl für jahrelange Lebensdauer
Kompakte Größe für alle kleineren Unternehmen
Einfache Anpassung des Keils für präzise Materialplatzierung
Einfacher Wechsel der Führung für verschiedene Nahtkonfigurationen
Tausende produzierter Produkt…
Kunden auf der ganzen Welt werden immer effizienter bei der nahtlosen Herstellung von Alltagsprodukten. Die Vielseitigkeit und die tragbare Ausführung der Spec Extreme erlauben jedem Maschinenbesitzer eine Bandbreite an Produkten in Hochgeschwindigkeit herzustellen, mit einem besonderen Fokus auf die Nahtqualität.
WELDS
Keder (einzeln)
Keder (doppelt)
Andere
Bewährte Heißluft- und Heizkeiltechnologie
Eher reißt das Gewebe als die Schweißnaht!
Seit über 40 Jahren ist Heizkeilschweißen eine bewährte Technologie, die für viele Anwendungen eingesetzt wird. Es ist die Technologie der Wahl für viele Kunden weltweit.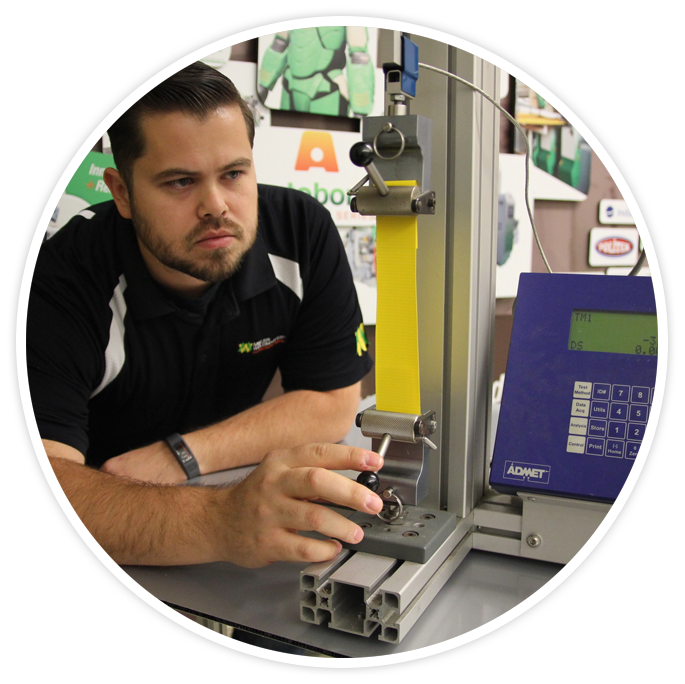 Für die Ewigkeit gebaut
Qualität & Verlässlichkeit
Lean-Manufacturing-Prinzipien
Gestell aus vollberuhigtem Stahl
Zusammengerechnet über 500 Jahre Maschinenbau-Erfahrung
Für jahrzehntelangen Gebrauch konzipiert und gebaut
Praxis
Für Mehrschichtbetrieb gebaut
Geringer Instandhaltungsaufwand für ausgedehnte Betriebszeiten
Branche ist bekannt für die langlebigsten Maschine
Die erste und die letzte Maschine, die Sie zum Schweißen benötigen
"Danke, dass Sie Maschinen herstellen, die so langlebig sind. Es ist fantastisch, dass wir eine Maschine hatten, die so langlebig war wie einige unserer Boote und dass Sie an nachhaltige Produkte glauben."
Jack's Plastic Welding
Service
Ihnen und Ihrem Business verpflichtet!
Ein mit Miller Weldmaster-Außendiensttechnikern besetzter Service- und Resolution-Center
Kurze Antwortzeit von einer wirklichen Person
Ersatzteile und Service mit Niederlassungen in Ohio, Kalifornien und Europa
20 geschulte Partner weltweit für internationalen Service und Support
"Wenn wir uns nicht um unsere Kunden kümmern, wird es jemand anders tun!"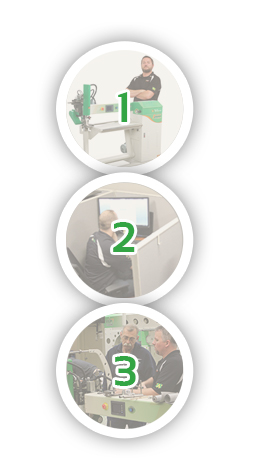 Professionelle Installation und Schulung!
Alles, was Sie wissen müssen!
Einer unserer zertifizierten Außendiensttechniker wird Sie kontaktieren, um Ihre Installation und einen Schulungstag in Ihrer Niederlassung zu terminieren
Wir statten Sie mit allem aus, das Sie wissen müssen, um Ihren Betrieb und Ihr Team auf den Installationstag und die Schulung vorzubereiten
Ihre Mitarbeiter werden eine ausführliche Schulung erhalten über Betrieb, Instandhaltung und – besonders wichtig – wie man Ihr Produkt herstellt
Es ist keine Erfahrung nötig, um Ihre neue Schweißmaschine zu bedienen. Dennoch, unsere erfolgreichsten Maschinenbediener haben eine gute Auge-Hand-Koordination und sind engagiert dabei, ein Qualitätsprodukt herzustellen
Die meisten unserer Kunden stellen am Ende des Tages fertige Produkte her!
SOCIAL
Sign up to be part of our MW Insiders where you will get updates on machine updates, frequently asked questions and tech tips. Put us in the hands of your operators to help ensure you are making money with your machine.'
SIGN UP
Facebook, Twitter, Linked In and Pinterest are just another way to stay involved with Miller Weldmaster. See our company culture; get updates on upcoming events, new products. A simply means to stay connected.
Kontaktieren Sie uns
Copyright 2020 Miller Weldmaster. All rights reserved
Privacy Policy
Miller Weldmaster Corp
4220 Alabama Avenue
Navarre, Ohio USA 44662
P: 330-833-6739 | F: 330–837-2828
Stay up to date with our bi-annual newsletter!
Learn about company activities, new machines,
hear from our Field Service Engineers and more.
Newsletter Sign Up
We use cookies on this site to enhance your user experience. By continuing to use our site, you agree to our cookie policy.
Ok