T300 Extreme Curve Doppelwand-Schweißmaschine
T300 Extreme Curve Doppelwand-Schweißmaschine
Miller Weldmaster T300 Extreme Curve für Doppelwandanwendungen (drop-stitch) wurde zur Produktionssteigerung und zur Herstellung von luft- und wasserdichten Nähten, ohne den Gebrauch von Klebstoffen, bei einer Vielzahl von Materialien entwickelt.
Durch das Abschaffen des Klebstoffs, wird bei der T 300 Extreme Curve Doppelwandanwendung (drop-stitch) der Materialtransport reduziert und zusätzliche Kosten für Klebstoff und Arbeit eingespart. Durch die Verwendung von Heißlufttechnologie, kann diese Maschine sowohl doppelwandige Materialien als auch herkömmliches Gewebe schweißen, die zunehmend beliebter werden bei Produkten, wie aufblasbare Bootsbauteile, Paddleboards, Gymnastikmatten usw.
FUNKTIONEN & VORZÜGE
Exakt zugeschnittene Formen mit sauberen, scharfen Kanten mit dem kundenspezifischen Ultraschallschneider
Kontinuierlicher Schnitt mit dem kundenspezifischen Messer und Kühler
Der Schneidvorgang wird kurzzeitig unterbrochen, um Unter- und Oberbahn zusammenzuheften und so ein Verschieben beim Schweißvorgang zu vermeiden.
Technical Specifications
Power Requirements:
208-240 Volts – Single Phase – 25 Amperes
380-400 Volts – Single Phase – 16 Amperes
Air Requirements:
100 PSI @ 2 CFM
Power Consumptions:
6Kw
Maximum Temperature:
Hot Air: 730o C – Hot Wedge: 450o C
Throat Width:
1m (300cm)
Dimensions:
Width: 600mm
Length: 1.5m
Height: 1.5mm
Weight: Approx. 231KG
Seam Width:
10 to 50mm (1/2" to 2")**
Welding Cycle:
Up to 30m/min (100ft/min)*
*Depending on the application, the seam width, and the type of material used
**Additional guides might be necessary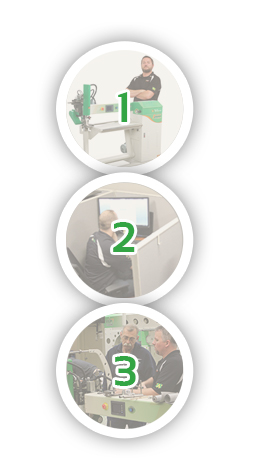 Professionelle Installation und Schulung
Vertrauen sie von Anfang an auf Miller Weldmaster!
Einer unserer zertifizierten Service-Ingenieure wird Sie kontaktieren und einen Termin für die Installation sowie für die Schulung vor Ort vereinbaren.
Wir teilen Ihnen alles mit, was Sie wissen müssen, damit Ihr Team für die Installation und die Schulung bereit sind.
Ihr Team bekommt eine gründliche Schulung in Bezug auf Betrieb, Wartung und vor allem bezüglich der Herstellung Ihres Produktes.
Die meisten unserer Kunden können am Ende des ersten Tages bereits Produkte herstellen.
Laden Sie das Pre-Install-Dokument herunter
Service
Wir fühlen uns ihnen und ihrem Betrieb gegenüber verpflichtet. Der Miller Weldmaster Service verfügt über Service – Ingenieure die schnell reagieren und zur Lösung der Probleme beitragen.
SOCIAL
Sign up to be part of our MW Insiders where you will get updates on machine updates, frequently asked questions and tech tips. Put us in the hands of your operators to help ensure you are making money with your machine.'
SIGN UP
Facebook, Twitter, Linked In and Pinterest are just another way to stay involved with Miller Weldmaster. See our company culture; get updates on upcoming events, new products. A simply means to stay connected.
DOWNLOADS
Kontaktieren Sie uns
Copyright 2019 Miller Weldmaster. All rights reserved
Privacy Policy
Miller Weldmaster Corp
4220 Alabama Avenue
Navarre, Ohio USA 44662
P: 330-833-6739 | F: 330–837-2828
Stay up to date with our bi-annual newsletter!
Learn about company activities, new machines,
hear from our Field Service Engineers and more.
Newsletter Sign Up