Máquina de soldadura T300 Extreme Curve de doble pared
Para soldar telas de doble pared
La opción de doble pared de la máquina T300 Extreme Curve de Miller Weldmaster está diseñada para aumentar la producción y crear costuras herméticas al aire y al agua en una variedad de telas sin pegamento.
Al eliminar el pegamento, la máquina de soldadura T300 Extreme Curve de doble pared reduce el manejo de la tela y el costo adicional del pegamento y del trabajo. Al usar tecnología de aire caliente , esta máquina suelda telas de doble pared que son cada vez más populares en aplicaciones como fondos de botes hinchables, paddle boards, colchonetas para gimnasios y mucho más.
Features and Benefits
Corte de patrones precisos con bordes limpios y rectos con la cortadora ultrasónica personalizada
Corte continuo con la cuchilla y el enfriador personalizados
El cortador cortará y pegará temporalmente los paneles superior e inferior juntos, impidiendo el movimiento durante el proceso de soldadura
Technical Specifications
Power Requirements:
208-240 Volts – Single Phase – 25 Amperes
380-400 Volts – Single Phase – 16 Amperes
Air Requirements:
100 PSI @ 2 CFM
Power Consumptions:
6Kw
Maximum Temperature:
Hot Air: 730o C – Hot Wedge: 450o C
Throat Width:
1m (300cm)
Dimensions:
Width: 600mm
Length: 1.5m
Height: 1.5mm
Weight: Approx. 231KG
Seam Width:
10 to 50mm (1/2" to 2")**
Welding Cycle:
Up to 30m/min (100ft/min)*
*Depending on the application, the seam width, and the type of material used
**Additional guides might be necessary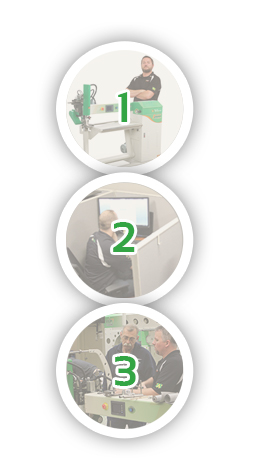 Instalación y formación profesionales
Confíe en Miller Weldmaster para empezar!
Un ingeniero de servicio de campo certificado por Miller Weldmaster le contactará para programar la instalación y la formación en sus instalaciones.
Le proporcionamos todo lo que necesita saber para preparar a su equipo para la instalación y la formación.
Su personal recibirá instrucciones detalladas sobre la operación y el mantenimiento de los equipos de soldadura y sobre cómo realizar su producto.
La mayoría de nuestros clientes fabrican productos acabados al final del primer día.
Descargar el documento de preinstalación
Servicio
Para servirle a usted y su negocio! El centro de resolución y servicio de Miller Weldmaster está integrado por nuestros ingenieros de servicio de campo para un rápido tiempo de respuesta.
SOCIAL
Sign up to be part of our MW Insiders where you will get updates on machine updates, frequently asked questions and tech tips. Put us in the hands of your operators to help ensure you are making money with your machine.'
SIGN UP
Facebook, Twitter, Linked In and Pinterest are just another way to stay involved with Miller Weldmaster. See our company culture; get updates on upcoming events, new products. A simply means to stay connected.
DOWNLOADS
Contacte con nosotros
Copyright 2020 Miller Weldmaster. All rights reserved
Privacy Policy
Miller Weldmaster Corp
4220 Alabama Avenue
Navarre, Ohio USA 44662
P: 330-833-6739 | F: 330–837-2828
Stay up to date with our bi-annual newsletter!
Learn about company activities, new machines,
hear from our Field Service Engineers and more.
Newsletter Sign Up