Impulse Extreme
Pour souder une gamme DYNAMIQUE de textiles techniques
Une machine à souder à impulsion par refroidissement à l'eau pour une gamme de produits polyvalente. Précise et facile à utiliser pour un seul opérateur, Impulse Extreme dispose de barres de soudage supérieures et inférieures pour une chaleur homogène et des coutures plates.
VIDÉO
FACILE À UTILISER
Design et contrôles droits et efficaces pour faciliter et homogénéiser la fabrication de vos produits.
UNE GAMME DE PRODUITS POLYVALENTE
Cette machine à impulsion se contrôle avec précision et permet de souder presque n'importe quel type de tissu (PVC, polyéthylène, etc.) et n'importe quel type de soudure pour les fabricants d'auvents, de paravents, d'affiches et de stores.
CARACTÉRISTIQUES ET AVANTAGES
Cycles de chauffe et de refroidissement contrôlés par PLC pour des soudures uniformes
10 paramètres programmables pour une utilisation plus facile
Barres de soudure inférieures et supérieures refroidies à l'eau pour une chaleur constante et des soudures plates
Tailles disponibles : 3 m, 4,5 m ou 6 m
Double système de sécurité avancé, avec pressostat de sécurité pour la pression et contrôle visuel
Système de pliage automatisé pour des opérations mains-libres
DES CENTAINES DE PRODUITS DÉJÀ FABRIQUÉS…
Chaque jour, partout dans le monde, des clients améliorent leur efficacité de production grâce à cette machine. Auvents, stores, paravents, applications aquatiques, tentes… Vous ne voyez pas votre produit ? Discutons ensemble de votre application pour trouver la machine à souder adaptée à vos besoins !

FABRIQUÉ POUR DURER
QUALITÉ ET FIABILITÉ
En savoir plus sur les principes de fabrication
Conception solide du châssis en acier
Plus de 500 ans d'expérience combinée dans l'ingénierie
Conçu et fabriqué pour plusieurs dizaines d'années
LE MONDE RÉEL
Fabriqué pour la production de plusieurs équipes
Peut d'entretien pour une durée de vie rallongée
Une industrie reconnue pour ses machines les plus résistantes du marché
La première et la dernière machine dont vous aurez besoin pour vos soudures
« Un grand merci pour cette machine qui dure dans le temps. C'est génial d'avoir une machine qui dure aussi longtemps que certains de nos bateaux et de voir que vous misez sur la fabrication d'une machine résistante ».
Jack's Plastic Welding
SERVICE
Pour vous servir, vous et votre entreprise !
Centre de résolution et de service d'ingénierie sur le terrain de Miller Weldmaster
Pour une réponse rapide provenant d'un véritable personnel
Pièces et services  avec des bureaux dans l'Ohio, en Californie et en Europe
20 partenaires formés dans le monde pour un service international
« Si nous ne prenons pas soin de nos clients nous-mêmes, d'autres le feront ! ».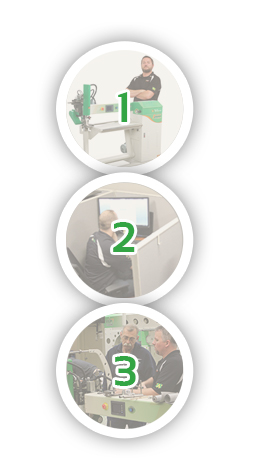 FORMATION ET INSTALLATION PROFESSIONELLE
Tout ce que vous devez savoir !
L'un de nos ingénieurs certifiés sur le terrain prendra contact avec vous pour programmer l'installation de votre machine et la journée de formation dans votre usine.
Nous vous expliquerons tout ce que vous devez savoir pour que vos installations et votre équipe soient prêtes le jour de la formation.Votre personnel recevra une formation approfondie sur le fonctionnement, l'entretien et la fabrication de votre produit.
Aucune expérience n'est requise pour faire fonctionner votre nouvelle machine. Néanmoins, nos opérateurs les plus performants présentent une bonne coordination oeil-main et aspirent à créer un produit de qualité.
La plupart de nos clients fabriquent ainsi des produits finis dès la fin de la journée !
Télécharger le document de pré-installation
SOCIAL
Sign up to be part of our MW Insiders where you will get updates on machine updates, frequently asked questions and tech tips. Put us in the hands of your operators to help ensure you are making money with your machine.'
SIGN UP
Facebook, Twitter, Linked In and Pinterest are just another way to stay involved with Miller Weldmaster. See our company culture; get updates on upcoming events, new products. A simply means to stay connected.
Contactez-nous
Copyright 2020 Miller Weldmaster. All rights reserved
Privacy Policy
Miller Weldmaster Corp
4220 Alabama Avenue
Navarre, Ohio USA 44662
P: 330-833-6739 | F: 330–837-2828
Stay up to date with our bi-annual newsletter!
Learn about company activities, new machines,
hear from our Field Service Engineers and more.
Newsletter Sign Up
We use cookies on this site to enhance your user experience. By continuing to use our site, you agree to our cookie policy.
Ok