PS400 Bag Closing Packaging System
The FASTEST bag closer
The PS400 is the fastest packaging bagging machine used for an efficient and streamlined bag closing system. This bag closing machine can be easily integrated into an automated bag closing line and/or a manual feed system sealing bags with a pinch or a double-fold seal.
VIDEO
SPEED
The PS400 bag closing machine reaches speeds of up to 30M per minute handling high production rates for an efficient packaging bag closing system that offers precise alignment with fast results. Sealing bags will be a cinch and make you feel like a pro with this automated bag closer.
VERSATILE PRODUCT RANGE
The packaging versatility of the PS400 bagging machine has the ability to weld nearly all polywoven and paper bags. Its precision-controlled bag closing system allows for the welding of all different types of seams required by the bag manufacturer.
FEATURES AND BENEFITS
Digitally controlled for quick production start up
Servo controlled enabling synchronization with converting line
Precision folding system for clean-straight folds
Recipe management system for easy recall of different batches
Quick change folding system for size and type of fold
No glue, adhesives or hot melt
THOUSANDS OF BAGS PRODUCED…
Currently there are thousands of bags being produced with our packaging machines. Any Bag…Any Seam!
WELDS
Single Fold
Double Fold
Other
BUILT TO LAST
QUALITY AND RELIABILITY
Lean manufacturing principles
Solid steel frame design
500+ years combined engineering experience
Designed and built for multiple decade use
REAL WORLD
Built for multiple shift production
Low maintenance for extended up time
Industry known for longest lasting machines
First and last machine you will need for welding
" Thank you for making a machine that lasts. It is nice that we had a machine that lasted as long as some of our boats and that you believe in building a machine with longevity."
Jack's Plastic Welding
It was obvious that your team is strongly invested in creating a quality product.
- Stark State College
SERVICE
Committed to you and your business! 
Miller Weldmaster Field Service Engineer staffed service and resolution center
Fast response time from a live person
Parts and service with offices in Ohio, California, and Europe
20 Trained Partners worldwide for international service and support
"If we don't take care of our customers… Someone else will!"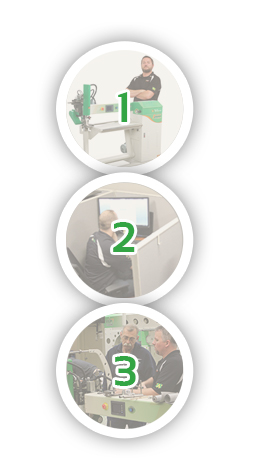 PROFFESSIONAL INSTALLATION AND TRAINING
ALL YOU NEED TO KNOW!
One of our certified Field Service Engineers will contact you to schedule your installation and training day at your facility
We provide you with everything you need to know to get your site and team ready for their day of installation and training
Your staff will receive extensive training on operation, maintenance and most importantly how to make your products.
No experience needed to operate your new welder. However our most successful operators have good eye-hand coordination and are committed to creating a quality product.
Most of our customers are making finished products by the end of the day!
SOCIAL
Sign up to be part of our MW Insiders where you will get updates on machine updates, frequently asked questions and tech tips. Put us in the hands of your operators to help ensure you are making money with your machine.'
SIGN UP
Facebook, Twitter, Linked In and Pinterest are just another way to stay involved with Miller Weldmaster. See our company culture; get updates on upcoming events, new products. A simply means to stay connected.
CONTACT US
Copyright 2020 Miller Weldmaster. All rights reserved
Privacy Policy
Miller Weldmaster Corp
4220 Alabama Avenue
Navarre, Ohio USA 44662
P: 330-833-6739 | F: 330–837-2828
Stay up to date with our bi-annual newsletter!
Learn about company activities, new machines,
hear from our Field Service Engineers and more.
Newsletter Sign Up
We use cookies on this site to enhance your user experience. By continuing to use our site, you agree to our cookie policy.
Ok