GRW2400 Rewind
ESTRUTURA PESADA de rebobinagem para produzir profissionalmente a emenda do produto com o mínimo de trabalho e tempo
A super duty rewind with a capacity to roll up to 10,000 pounds (4.53ton) rolls. Upon completion of your liner fabricating the GRW2400 enables you to quickly roll up your liner for shipment to your customers. Designed to eliminate extensive fabric handling.
CARACTERÍSTICAS E BENEFÍCIOS
Poderoso sistema de guia de desenrolamento para puxar qualquer comprimento de forro do chão para a bobina
Bobinas de tensão para facilitar o carregamento do forro
Freios por discos pneumáticos para maximizar a quantidade de material na bobina
CONSTRUÍDA PARA DURAR
QUALIDADE & CONFIABILIDADE
Princípios da indústria enxuta
Projeto de armação de aço
Mais de 500 anos combinados de experiência em engenharia
Projetado e construído para ser usado por várias décadas
MUNDO REAL
Construído para múltiplas mudanças de produção
Baixa manutenção para um longo tempo de uso
Conhecida na indústria por máquinas duradouras
A primeira e última máquina que você precisará para solda
"Obrigado pela construção de uma máquina durável. É bom ter máquinas que durem tanto tempo como nossos barcos e que possamos acreditar na construção de uma máquina pensada para durar bastante."
Jack's Plastic Welding
SERVIÇO
Comprometido com você e sua empresa!
Engenheiros de campo da Miller Weldmaster e Central de Atendimento
Tempo de resposta rápido
Escritório para peças e serviços em Ohio, Califórnia e Europa
20 Parceiros treinados em todo o mundo para serviço internacional de apoio
"Se nós não cuidarmos dos nossos clientes… alguém vai!"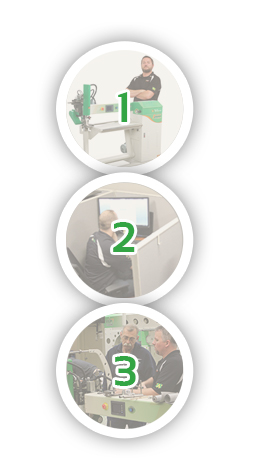 Instalação e formação profissional
Tudo o que você precisa saber!
Um de nossos Engenheiros de campo certificados entrará em contato para agendar a sua instalação e dia de treinamento em suas instalações
Nós iremos fornecer tudo o que você precisa saber para preparar o seu time e local para o dia de instalação e treinamento
Sua equipe receberá treinamento extensivo em operação, manutenção e, sobretudo, como fazer o seu produto
Nenhuma experiência é necessária para operar a sua nova soldadora. No entanto, os nossos operadores possuem habilidade e estão empenhados em criar um produto de qualidade
A maioria dos nossos clientes estão construindo produtos até o fim do dia!
SOCIAL
Sign up to be part of our MW Insiders where you will get updates on machine updates, frequently asked questions and tech tips. Put us in the hands of your operators to help ensure you are making money with your machine.'
SIGN UP
Facebook, Twitter, Linked In and Pinterest are just another way to stay involved with Miller Weldmaster. See our company culture; get updates on upcoming events, new products. A simply means to stay connected.
Contate-nos
Copyright 2020 Miller Weldmaster. All rights reserved
Privacy Policy
Miller Weldmaster Corp
4220 Alabama Avenue
Navarre, Ohio USA 44662
P: 330-833-6739 | F: 330–837-2828
Stay up to date with our bi-annual newsletter!
Learn about company activities, new machines,
hear from our Field Service Engineers and more.
Newsletter Sign Up
We use cookies on this site to enhance your user experience. By continuing to use our site, you agree to our cookie policy.
Ok