T300 Extreme Curve Double-Wall Welding Machine
Solde agora tecidos de parede dupla
A T300 Extreme Curve Double-Wall (também conhecida como ponto de gota) é uma opção projetada para aumentar a produção e criar costuras herméticas e impermeáveis em uma grande variedade de tecidos sem a utilização de cola.
Ao eliminar a cola, a T300 Extreme Curve Double-Wall reduz o manuseio do tecido e o custo adicional da cola e da mão de obra. Usando a tecnologia de ar quente, esta máquina solda tecidos de parede dupla ou de ponto gota que são cada vez mais populares em aplicações como fundo de barcos infláveis, pranchas de paddle, esteiras de ginástica e muito mais.
CARACTERÍSTICAS E BENEFÍCIOS
Conte com padrões precisos e com bordas limpas e retas com o cortador ultrassônico personalizado
Corte contínuo com uma lâmina e resfriador personalizados
O cortador cortará e unirá temporariamente os painéis inferior e superior, impedindo o movimento durante o processo de solda
Especificações técnicas
Power Requirements:
208-240 Volts – Single Phase – 25 Amperes
380-400 Volts – Single Phase – 16 Amperes
Air Requirements:
100 PSI @ 2 CFM
Power Consumptions:
6Kw
Maximum Temperature:
Hot Air: 730o C – Hot Wedge: 450o C
Throat Width:
1m (300cm)
Dimensions:
Width: 600mm
Length: 1.5m
Height: 1.5mm
Weight: Approx. 231KG
Seam Width:
10 to 50mm (1/2" to 2")**
Welding Cycle:
Up to 30m/min (100ft/min)*
*Depending on the application, the seam width, and the type of material used
**Additional guides might be necessary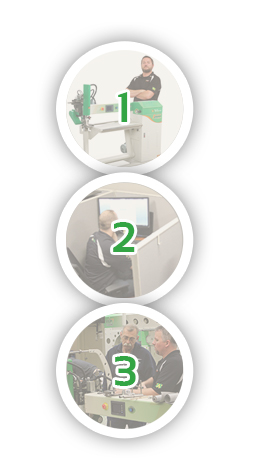 Instalação e treinamento profissional
Confie na Miller Weldmaster para começar!
Um engenheiro de campo da Miller Weldmaster entrará em contato com você para agendar a instalação e o treinamento em suas instalações.
Fornecemos tudo o que você precisa saber para preparar a sua equipe para o treinamento e instalação.
Sua equipe receberá instruções detalhadas sobre a operação e manutenção de equipamentos de solda e sobre como produzir o seu produto.
A maioria dos nossos clientes consegue finalizar seus produtos até o final do primeiro dia.
Download do documento de pré-instalação
Serviços
Estamos comprometidos com você e sua empresa. O centro de serviço e resolução da Miller Weldmaster conta engenheiros de campo para um tempo de resposta rápido.
SOCIAL
Sign up to be part of our MW Insiders where you will get updates on machine updates, frequently asked questions and tech tips. Put us in the hands of your operators to help ensure you are making money with your machine.'
SIGN UP
Facebook, Twitter, Linked In and Pinterest are just another way to stay involved with Miller Weldmaster. See our company culture; get updates on upcoming events, new products. A simply means to stay connected.
DOWNLOADS
Contate-nos
Copyright 2019 Miller Weldmaster. All rights reserved
Privacy Policy
Miller Weldmaster Corp
4220 Alabama Avenue
Navarre, Ohio USA 44662
P: 330-833-6739 | F: 330–837-2828
Stay up to date with our bi-annual newsletter!
Learn about company activities, new machines,
hear from our Field Service Engineers and more.
Newsletter Sign Up