Improved Profits By Switching From Outsourcing Sewing Jobs To Welding Them In-House
After many years of hovering over the T300 Extreme at trade shows, the family owned graphic arts company, Decal Impressions, hit the buy button and could not be happier with their purchase. Watch this video and listen to their President talk about their production before and after purchasing a banner welder, his experience with the service department, and his overall review of his new banner welding machine.
"Without a doubt it's been one of the best investments, if not the best investment I've ever and in the company. Not just from the ability to make a good profit, but to make a good product, dependability in every way it checks the box."
-Bryan Vielhauer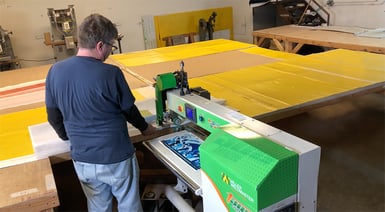 Interested in a banner welder or just want an estimate price? Contact us today!