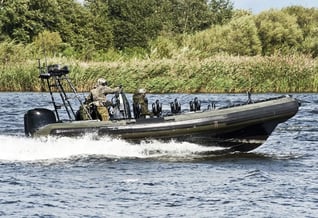 As a frontrunner in the thermoplastic industry, Miller Weldmaster, with its industrial hot air and hot wedge plastic welding machines, boasts over 45 years of experience assisting our esteemed clientele with a myriad of welding and sewing applications. From intricate military designs, conveyor belts, containment booms, and high-speed roller doors to the more straightforward creative ventures, Miller Weldmaster has encountered and mastered them all.
Leveraging our advanced hot air and hot wedge welding techniques, our customization capabilities enable us to address almost any welding application you might be grappling with. Whether it's for industrial setups or specific niche requirements, our machines have consistently delivered precision.
Why Choose Miller Weldmaster's Hot Air & Hot Wedge Welding Machines?
Proven Expertise: Over 45 years in the industry demonstrates our commitment and proficiency.

Versatility: Handle a wide range of materials and complex shapes with our industrial welding machines.

Innovative Solutions: Our team is continually pushing boundaries to deliver state-of-the-art welding solutions to cater to various industries.
If you're in search of a reliable partner to address your fabric welding needs, especially with industrial hot air and hot wedge technology, look no further. Contact us, and our experts will guide you on what fabric welding machine and technology would align best with the exact product(s) you aim to weld.
Experience the Precision of Industrial Hot Air & Hot Wedge Welding with Miller Weldmaster.
"Miller Weldmaster has really helped in the development of our business. The service has been excellent, replacement parts arrive fast, and there is always someone to help with repairs on the phone. The equipment upgrades have kept us competitive in a touch market. It is a real pleasure to work with a company that takes such an interest in the success of its customers."
-Jack's Plastic Welding