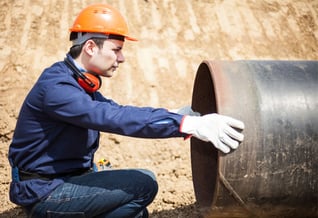 Cost-Effective CIPP Production
With Miller Weldmaster machinery, you have the ability to produce cured in place pipeline (CIPP) consistently and efficiently. Customers use our welding and sewing machines to make cured in place pipeline or rehabilitation tubes and calibration tubes for a variety of applications, including sanitary and storm sewers and industrial pipelines.
Weld, Sew or Both
The versatility of our machines means you can weld, sew, or do both. You can produce both a single-layer, double-layer, or multi-layer pipeline. Weld seamed pipeline with uniform thickness and overlap or butt seams to ensure an effective product with a watertight seal. Our customizable machines also can apply tape on the top and bottom of sewed seams, to make them waterproof.
In-House Production
Producing your own CIPP lining can be a cost-effective alternative to purchasing liner.
Top Benefits Of Our CIPP Machines:
Strong and secure seams
Faster production rates
Material handling for multiple rolls
Pallet stacking for improved efficiency
"Humphrys has been extremely satisfied with Weldmaster's ability to make us custom heat seaming machinery that has improved our productivity and reduced our labor costs. We consider the purchases of our various Weldmaster equipment a cost saving investment in our future growth." -Humphrys
Let us help you choose or build the right machine for your application. Contact us to discuss today.