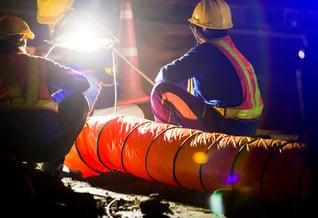 Ducting, Ventilation & Hose Welding Solutions
Spiral and flexible welding ducting products are paramount for diverse industries such as agriculture, construction, mining, and ventilation.
Variable Duct Sizes
At the heart of our offerings, Miller Weldmaster welding machines cater to a plethora of wire diameters and pitches. Whether you're looking for ducting welding machines, ventilation welding machines, or hose welding machines, we've got you covered for every size and application.
Stronger Seals for Durability
Our machines don't just offer diameter versatility. With the capability to integrate wire reinforcement and wear strips, we aim to curb air loss in mine ventilation and guarantee air-tight seals for all your welding needs.
Technological Edge & Safety First
At Miller Weldmaster, we recognize the importance of merging innovation with safety. Our range of ducting welding machines, ventilation welding machines, and hose welding machines are not only designed for peak performance but also prioritize user safety.
Advanced Controls

: With user-friendly interfaces and real-time monitoring, our machines offer precise control over the welding process, ensuring consistent results every time.

Safety Features: Equipped with emergency stops, guard sensors, and safety lockouts, our machines are built to protect the operator at all times, minimizing risks during operations.
Maintenance Alerts: To ensure longevity and consistent performance, our machines come with proactive maintenance reminders, ensuring your equipment is always in top-notch condition.
By choosing Miller Weldmaster, you're not only investing in a machine that delivers impeccable welding but also ensuring a safe and technologically advanced working environment.
Save Labor Costs & Amplify Production
Embrace automation and witness a surge in efficiency, paired with substantial labor savings. Our welders diminish operator interference, thanks to features like fabric unwinds and ducting take away suited for any length. We pride ourselves on our fully automated system, designed to weld panels, craft t-tape, append to tube, incorporate grommets, and customize lengths effortlessly.
"Humphrys has been extremely satisfied Weldmaster's ability to make us custom heat seaming machinery that has improved our productivity and reduced our labor costs. We consider the purchases of our various Weldmaster equipment a cost saving investment in our future growth." -Humphrys
For all your duct welding, hose welding, and ventilation welding requirements, turn to Miller Weldmaster. Reach out and let's fine-tune a solution tailored to your specific needs.