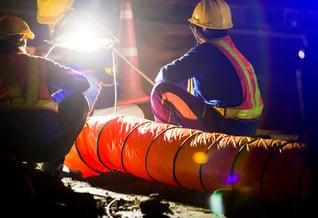 Spiral and flexible welding ducting products are in demand for a number of industries including agriculture, building, mining and ventilation.
Variable Duct Sizes
Miller Weldmaster welding machines offer variable wire diameter and wire pitch. We have the machine for any size ducting, ventilation or hose.
Stronger Seals
In addition to offering multiple diameter options, our machines can add wire reinforcement with wear strips to help eliminate air loss in mine ventilation and to produce air-tight seals.
Save Labor Costs and Increase Production
Automating the process helps boost efficiency and save time and labor. Our welders reduce operator handling with fabric unwinds and ducting take away built to any length. We offer a fully automated system that can weld panels together, create t-tape, apply to tube, grommet and cut to length.
"Humphrys has been extremely satisfied Weldmaster's ability to make us custom heat seaming machinery that has improved our productivity and reduced our labor costs. We consider the purchases of our various Weldmaster equipment a cost saving investment in our future growth." -Humphrys
For duct welding, hose welding and ventilation options, talk to Miller Weldmaster. Contact us to discuss your specific needs.