Your pet is significant in your life; ensuring that their food remains uncontaminated is vital for their well-being. From its production in the factory, through its transportation, and into your home, your pet's feed undergoes various touchpoints. Thus, sealing animal feed bags effectively guarantees the utmost quality of the feed your pet consumes, fostering trust among your customers.
Sealing Animal Feed Bags: The Critical Step
Bag sealing stands as a pivotal phase in the food manufacturing journey. It's essential to seal the bags efficiently, ensuring no foreign substances like glue taint the contents, and that the bag remains intact during transit. Achieving a robust seal that also reduces operational costs and enhances production is feasible with the right animal feed bag sealing machinery in your assembly line.
Innovations in Sealing Dog Food Bags
The realm of bag sealing has witnessed considerable evolution recently, with the notable shift being the elimination of adhesives like glue. Miller Weldmaster Packaging Systems machines employ Hot Air technology as a substitute, offering a hygienic and reliable method for sealing animal feed bags. This approach ensures no harmful substances mix with your pet's food.
The Packaging Systems lineup offers varied sealing styles tailored to specific needs, all harnessing the hot air sealing mechanism. Be it pinch or double fold - the prevalent sealing types, machines like the PS150 and PS400 are adept. Whereas, for a flat seam tube or overlap, the PS300 serves the purpose. While they cater to similar functions, distinct markets have unique style preferences.
For instance, in the U.S., the pinch method is predominantly used for dog or cat food bags. Conversely, European markets might lean towards the double fold sealing approach. Hence, Miller Weldmaster Packaging Systems machines are versatile enough to meet diverse animal feed bag sealing demands.
Beyond just dry pet food, such sealing techniques are apt for myriad items, encompassing rice, grains, kitty litter, chemicals, and more.
Sealing Plastic Animal Feed Bags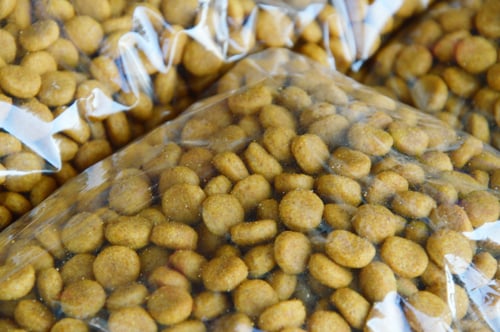 Poly Woven bags have a plethora of applications, with a mainstay in feed-related packaging, covering dog, cat, horse, rabbit, and chicken feeds. But their utility isn't just restricted to animal feeds; they're also apt for human consumables like grains. Given their robust nature, they're apt for diverse industries, from chemicals to pharmaceuticals.
Whenever there's a need to seal something in a poly-woven bag, Miller Weldmaster Packaging Systems Machine stands as the trusted choice. With machines like the PS150 and PS400 that utilize Hot Air technology, integrating a Miller Weldmaster into your line becomes the best decision.
Ensuring the integrity and quality of animal feed bags is our top priority. With Miller Weldmaster, you get the promise of unmatched sealing proficiency, ensuring the safety and health of your beloved pets.