Miller Weldmaster's impulse welding machines are created to be a leading solution for heat seaming projects. Our impulse welders are used to make strong, smooth seams between thermoplastics.
What is Impulse Welding
Impulse welding is the process by which electricity is used to create heat through a high resistance wire. Heat is created by pulsing energy through the heating element in the top and bottom bars for the duration of the weld. After a set weld time is completed, there is a slight cool down cycle, helping eliminate wrinkles.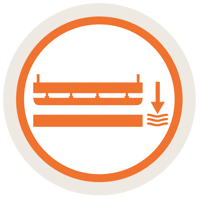 Why Choose Impulse Welding
Impulse welding machines:
Give the cleanest seams with simplistic welding parameters. Because both parts of the sealing process occur under pressure – both fusion and cooling – the seals are strong and clean upon removal.
Consume less energy than other welding technologies do. Impulse welders take less time to begin use, as the heat bars are heated nearly instantly.
Can be used quickly as initial heating does not take long to complete.
Create seams that are stronger than the material itself for diverse manufacturing jobs
Create airtight and waterproof seams unlike when you sew and are poking holes in the fabric
IS IMPULSE WELDING THE RIGHT TECHNOLOGY FOR MY APPLICATION?
To ensure our customers have the best heat system for their application, it is best to speak with a Miller Weldmaster expert. While hot air, hot wedge, impulse and RF work for many applications, one may work better than the other depending on the application. Miller Weldmaster will help you select the best technology for your application.
What Materials Can Be Welded On Hot Air?
Vinyl (PVC) Laminated Fabrics Vinyl

(PVC) Coated Fabrics

Vinyl Films

Polypropylene

Polyurethane

Polyethylene (PE)

Non-woven Polyesters

Double-Wall Fabrics

Thermoplastic Rubber

Various Fusing Tapes

Weldable Webbings

+ More!