WHAT IS INDUSTRIAL SEWING?
With over 45 years of combined industrial sewing machines and automation experience, we are able to provide innovative solutions to maximize your production. We have experience working with many brands and models of sewing machines. We will work from initial design to final integration of your fully automated industrial sewing machine solution to ensure it meets your production needs.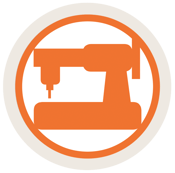 Industrial Sewing Machine Capabilities
Automatic tensioning of fabrics
PLC based control systems
Synced conveyor belts
Touch screen
Quick change accessories
Photo eye guiding
Driven puller systems
Precision controlled fabric cutting operations
Integration of a new or existing line
Sewing Machine Automation
Miller Weldmaster offers a variety of ways to automate your sewing production lines. Depending on your application, we have machines to vary based on the amount of automation and what they are for. All machines help to eliminate material handling which helps improve efficiency by reducing man power. This improves production time overall and cuts down on costs by maximizing output.
Miller Weldmaster offers automated sewing machines for SEG, Cured In Place, Filter lines, and so much more. We will work with you to ensure your automated sewing line works for you and your product line.
Is An Industrial Sewing Machine The Right Technology For My Application?
To ensure our customers have the best system for their application, it is best to speak with a Miller Weldmaster expert. While hot air, hot wedge, impulse, RF and sewing work for many applications, one may work better than the other depending on the application. Miller Weldmaster will help you select the best technology for your application.