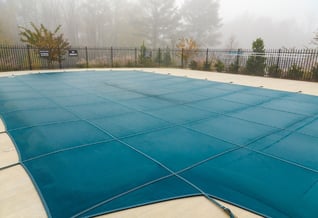 Miller Weldmaster manufactures fabric welding machines that make both pool liners and pool solar covers. Read below to learn the process of both pool covers and pool liners.
What are pool covers made of?
Pool Covers are mainly made with UV-stabilized polyethylene, polypropylene or vinyl fabrics. Miller Weldmaster has standard and custom welding options that will weld all three of these pool covers fabrics.
What to consider when purchasing a welder for your pool covers or pool liners?
What type of material you are welding? The weight and thickness can also play a role in how it is welded. Contact us and we can do a free welded sample on your material so you can see what it will look like.
What welding technology should you use to weld pool covers and pool liners? Pool covers and liners are most commonly welded with hot air welding and radio frequency welding. While these technologies operate very differently, leave it to one of our fabric welding experts to recommend what technology best fits your production line, size of business and material you are using.
Do you want to automate the process? We have options that can weld multiple rolls at a time and you can weld, cut and slit your pool covers with a push of a button. If you are looking for a smaller investment, we also have standard units that can easily weld your pieces of material together with one operator.
What training do you receive when purchasing a Miller Weldmaster fabric welding machine? Miller Weldmaster will schedule a installation and training date with your team that works best. Depending on the machine purchased, our field service technicians will be onsite 1-3 days to train and educate your team about your new welder.
"We found the product to be very interesting and are anxiously awaiting the opportunity to fit one or more of your products into our production process"
-Pocono Pool Products