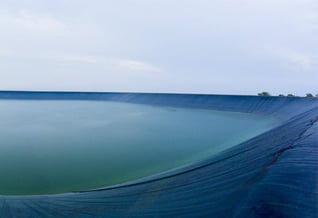 Greatly Reduce Labor Costs and Boost Production
Miller Weldmaster's geomembrane welding machines are your ticket to producing any size liner or cover for diverse applications such as irrigation canals, ballparks, landfills, reservoirs, and beyond.
With our automated systems, experience the benefits of high-speed production with minimal labor and material handling. Downsizing the workforce doesn't mean compromising on efficiency; in fact, you can effectively operate from a more compact facility. The strength of bonds formed by hot air welding and hot wedge welding is unparalleled.
For expansive products like liners and covers, our welders offer both stationary and travel configurations. Both methods surpass the speed of traditional sewing or gluing, empowering you to conduct welding for liners and covers inhouse. Plus, the travel setup diminishes the need for manual heavy fabric movement, as the machine shoulders that responsibility.
Whether you need standard geomembrane welders or a custom solution tailored to your specifications, Miller Weldmaster is your trusted partner. Engage with our experts to discuss your product today.
Why Would I Choose Your Machine Over Handheld Solutions?
Our automated systems can weld multiple seams simultaneously with a single operator. Designed to minimize fabric handling, our machines also assist with the folding necessary before rolling up a liner.
What Welding Speeds Are Attainable With Your Machines?
The welding speed hinges on the fabric type. Many clients achieve 40+ FPM when welding liners. For instance, polyethylene liners generally have swifter speeds compared to PVC liners. If speed is pivotal for your operations, we can tweak the machine to meet your desired pace.
How Much Space Do Bi-Directional Or TG3600 Machines Occupy?
Typically, we position the machine's track adjacent to your building's exterior wall. This arrangement ensures that only the machine's footprint is utilized when parked, and not the entire floor space it occupies during movement.
"Your welder has provided us with a unique selling proposition within the marketplace which makes us stand out against our competitors, allowing our business to grow whilst providing efficiency savings along the way. Our Miller Weldmaster machine is the focal point of our growth plans. We hope to be able to come back and purchase bigger and better machines in the future!"
-HBB GeoSales
Your Geomembrane Welding Partner Awaits
Ready to redefine the efficiency and quality of your liners and covers production? With Miller Weldmaster's geomembrane welding machines, you can achieve more in less time, while ensuring unmatched durability and precision in every weld.
Don't just take our word for it; experience the difference firsthand.
Reach out to our experts for a personalized consultation. Elevate your production capabilities and solidify your market position with the best in the welding industry. Join the Miller Weldmaster family today!