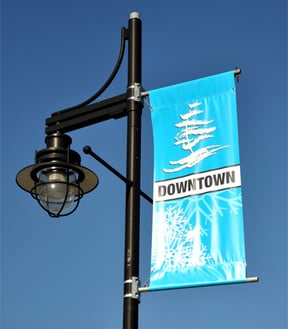 When it comes to signs, banners, and digital textile finishing machines, there is hot air welding, hot wedge welding, radio frequency, impulse welding, and automated sewing solutions to choose from. Miller Weldmaster manufacturers each one of these finishing machines and is here to help you choose the best technology that will increase your production and finishing quality.
Miller Weldmaster has sold hundreds of welding machines to customers who finish billboards, signs, banners, and silicone edge graphics worldwide.
"I just purchased a Miller Weldmaster T-300 and absolutely love it. Before we got our welder we sewed, the productivity is unbelievable."
-Super Sign Mart
Why Weld Your Banners, signs & billboards?
Banner welding is the most efficient way to create clean signs, banners, and billboards. Miller Weldmaster's banner welding machines are fast, and easy to use, and are created to be versatile in their capabilities.
Increased Output - Welding your banners is far faster than sewing or taping a banner
Stronger Seams - Extra security when hanging your signs as the weld is stronger than the actual fabric itself
Reduced Consumable Costs - Create a near perfect finish that requires no tape, glue, or adhesive
Easy To Use - Your staff will be fully trained within one day on all functionalities of your welder
Looking to get into dye sublimation?
Our machines are developed to always be up-to-date with the latest sign and banner industry trends, which is why we now have machines dedicated to silicone edge graphics creation, and machines that can both sew and weld plastic to keep your operation running quickly.
Having an automated sign finishing solution is a great way to keep costs low if you are a high-volume sign and banner producer. Instead of needing extra labor to hand hem or seam banners and signs, banner welders do it all for you so your production is more efficient.
What type of machines do you have for the sign industry?
We offer many models for the sign industry:
112EX,
RFlex,
RFlex Travel,
T3 Extreme,
T300 Extreme Edge,
T300 Extreme Flex,
Digitran,
Double Hemmer – DH7600,
Ecco Sheet System, and
T2 Extreme.
Each machine has its own individual benefits and we are confident we can fit your sign application needs with at least one of our models. Our 112EX is great for welding, cutting and grommeting long, straight seams. The RFlex is our most versatile Radio Frequency machine, with our RFlex Travel also providing an automated option for Radio Frequency welding. Our T3 Extreme is the perfect fit for any size business. The T300 Extreme is one of our top sellers, the T300 Extreme Edge is the fastest welder for finishing banners and signs, while our T300 Extreme Flex is our overall most versatile welder. Our Digitran allows you to automate your sewing and SEG needs. Our Double Hemmer is one of our automated machines that can weld and finish two edges at the same time. Our Ecco Sheet system is another one of our automated systems that is great for billboards or bulletin finishing. Last but not least, we have our T2 Extreme, which is a robust sign seamer for banners and signs. The T2 is often a great fit for our customers who are just starting out in the sign industry or are some of our smaller sign customers.
Does Miller Weldmaster offer a sewing option for SEG Frame systems?
Yes, the Digitran is a fast and easy solution to automatically sew your silicone edge graphics. It is equipped with an automatic conveyor, a SEG guide to feed the silicone through, and an automatic cutter that knows where and when to cut the SEG to fit your graphic perfectly.
What fabric welding machine will make a billboard?
Our Ecco Sheet System is a great automated solution for billboards or finishing bulletin boards. When using a banner welder, do you have to use any other glue or tape? No! There are no consumables used when hemming your banner with one of our welders. You are actually welding the material to itself, which is creating a stronger bond. Our machines use a combination of heat, speed and pressure to make two pieces of material become one.
How fast can you weld a banner?
You can typically weld all four sides of a 4x8 banner in less than a minute using the T300 Extreme Edge or the T3 Extreme.
What is the largest size of a banner can you finish with one of your fabric welding machines?
The size of the banner does not matter. We have welding machines that are only finishing perimeter work such as hems, pockets and more. We also have fabric welding machines that can do perimeter work plus paneling, which involves lining up images and doing an overlap seam.