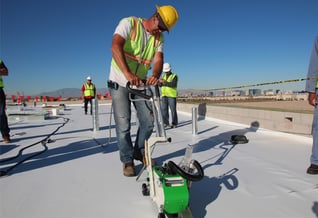 About Our Roofing Industry Welding Machines
Are you looking for PVC and TPO membrane welding machines that are not only reliable but also easy-to-use, so that you can take pride in your roofing craft? Roof membrane welders offer distinct advantages over other roof sealing methods including fewer leaks, easier maintenance, and longer lifespan.
Miller Weldmaster is changing the way our customers do roofing. Contact us today to be part of this new direction.
Why Use a Miller Weldmaster Roofing Welder?
Miller Weldmaster constantly strives to help our customers change and grow their business. That's why we've designed and developed the fastest and easiest-to-use roofing welders in the industry, no matter what material you're using. From geo liners to membranes, the success of our machines stems from a long history in the roofing industry, paired with our commitment to continue innovating like our dual-directional Seamrover DD.