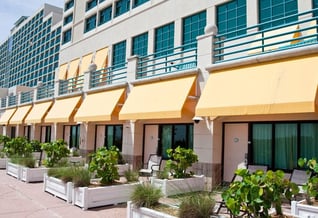 Fabric Sealers and Welders for Awnings
For awnings, shade and marine applications, welding offers a more seamless look with a stronger bond for increased product life.
Miller Weldmaster offers acrylic and PVC fabric welding machines for any size operation. A welding machine can increase productivity and efficiency while creating a better looking, longer-lasting product.
Welding vs. Sewing
We've helped manufacturers successfully transition from sewing to welding for their awning sealing. Sewing machines create a "railroad" pattern with a double stitch that's more prone to leaks. Welding provides a seamless look that does not perforate the fabric. Smooth, continuous seaming creates a better-looking product that won't need frequent repairs. Read about our successful work with an awning customer here
Stay Ahead of the Curve
If you want to produce stronger, longer-lasting products, you can benefit from a Miller Weldmaster machine. Contact us, and we'll help you find your ideal welder.