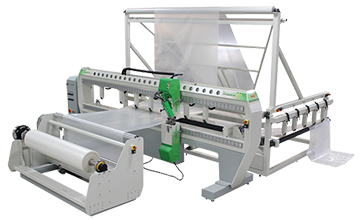 A tarpaulin welding machine manufacturer with more than 45 years of experience, Miller Weldmaster makes versatile, automated solutions for the cover and tarp industry. We design and engineer custom machines to fit our customers' exact needs. Choose from multiple capabilities to find the perfect balance for your business. Our machines help you increase your production, meet production demands, and reduce labor costs.
Our tarp welding machines produce tarps and covers made from the following materials: poly, canvas, vinyl, mesh, and more. A high-performing, efficient process, welding uses the principles of heat, speed, and pressure to get the perfect welded seam.
Tarpaulin welding machine products we've designed and engineered:
Lumber Tarps
Steel Tarps
Pool Covers
Soft-Side Trailer Curtain
Large Covers
Solar Panel Pool Covers
Open Bed Covers
Truck Tarps
Top benefits of Miller Weldmaster's automated tarpaulin welding machines:
Versatility to accommodate multiple applications
High-speed production for increased output
Customization by applying keder, weld overlaps, hems, pockets, rope and hem, cut to length, and more
Ability to weld multiple rolls of same or different thickness together at one time
Tarpaulin Welding Machine Review:
"Miller Weldmaster is in a league of its own. There is no problem in J&M's manufacturing process they cannot solve. The machinery Miller provides is always build beyond J&M's expectation. The level of automation, the functionality, the superb craftsmanship is impeccable. Just when you think you have it all, Miller puts it over the top with its personnel. I can definitely tell that Miller invests greatly in their people from the first rate customer service I receive. Miller Weldmaster continues to set the bar for the rest of the market, and will continue to be a leader in the years to come!!" J&M Industries
Each machine can be fully customizable and provides full versatility. Apply keder, weld overlaps, hems, pockets, rope and hems, cut to length and more.....Check out our turn-key solutions automating your production. Or contact a sales specialist for more information about a custom solution to fit your unique needs.
Miller Weldmaster will help you select the right solution for your application.