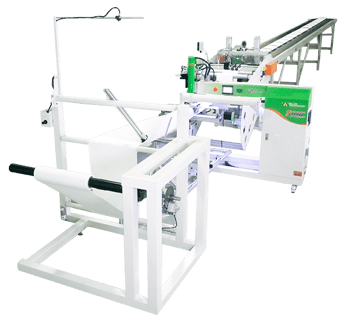 Automated filter production has never been easier. From sewing to welding with hot air or impulse, there is a solution to fit your production demand. These machines are designed to be precise and continuous for increased output of top quality filter applications.
By using hot air or impulse welding, your filters, you are seaming the two layers together without the use of tape or bonding chemical. It uses the principles of heat, speed and pressure to get the perfect welded seam. The solution you chose will depend solely upon your specific needs.
Miller Weldmasters automated filter welding machines provide:
Versatility to accommodate multiple applications
High-speed production for increased output
Customization by applying keder, weld overlaps, hems, pockets, rope and hem, cut to length, and more
Ability to weld multiple rolls of same or different thickness together at one time
Non-woven filter tubes, hose and bags can be welded or sewn depending upon your specific needs. Any systems can be fully automated with:
Hot Air
Ultrasonic
Unwinds
Accumulators
Sweep Systems
Filter Closing
Print Technology
Straight or Radius Cut-to-Length
Rewinds and more…
"The team at Miller Weldmaster made our vision, their vision and turned a "back of the napkin" drawing into the fantastic hot-air sealer that we use in production today. The collaborative and consultative environment at Miller Weldmaster is second to none. Those folks "get it!" - Eichrom
Still have questions? Contact one of our automated specialists to discuss your production and potential options.
Miller Weldmaster will help you select the right solution for your application.