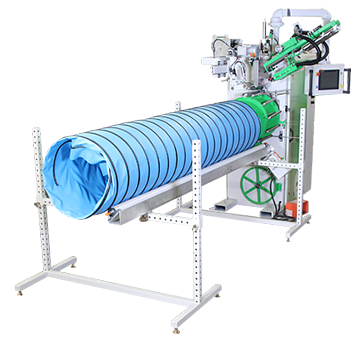 There are many industries that use spiral and flexible ducting as a critical component to their processes including; agricultural, building, mining and ventilation.
A high-performing, efficient process, welding uses the principles of heat, speed, and pressure to get the perfect welded seam.
Non-woven, PVC, polyurethane or polyethylene or materials can easily be welded to create positive air handling ducting or wire support. An automated solution will increase your output and decrease your labor allowing you to provide an affordable, long-term solution to your customers.
More benefits of automating your production include:
Custom designed to your product range
Create multiple sizes on the same machine
Line printing available
Versatility to accommodate multiple applications
High-speed production for increased output
Ability to create made-to-order product
Ability to weld multiple rolls of same or different thickness together at one time.
Our complete automated solutions will provide continuous welding of your ducting, hose and tubes. Offering multiple diameters and the option to add on wire reinforcement with wear strips will help eliminate air loss in mine ventilation and create watertight ducting. The process of automating your ducting production will save time and labor while creating top-of-the-line, high quality, light weight and durable ducting and hose.
"To ensure that we offer our customers the highest of quality and best possible service, we also rely on the highest quality equipment and service like that which we receive from Miller Weldmaster." - Are Inflatables
Still have questions? Contact one of our automated specialist to discuss your production and potential options.
Miller Weldmaster will help you select the right solution for your application.