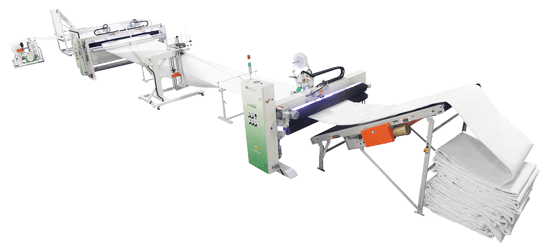 Automated solutions for cured-in-place pipeline (CIPP), rehabilitation tube welding and sewing solutions have produced millions of linear feet worldwide. These fully automated solutions will manufacture liner for restoring structural integrity of pipeline. CIPP is used in many applications including sanitary sewers, storm sewers, industrial pipelines and more.
Each machine is fully customizable and can produce either single layer or double layer liners. Each solution can weld, sew, extrude or incorporate a combination of both to produce continuous feet of liner. Configured for overlap or butt seam which allows for uniform thickness of each tube.
A high-performing, efficient process, welding uses the principles of heat, speed, and pressure to get the perfect welded seam.
Non-woven, felt liners or coated with polypropylene, polyurethane, polyethylene or PVC materials can easily be formed into a tube with multiple diameters to provide full production versatility. An automated solution will increase your output and decrease your labor allowing you to provide an affordable, long-term solution to your customers.
More benefits of automating your production include:
Custom designed to your product range
Create multiple sizes on the same machine
Line printing available
Versatility to accommodate multiple applications
High-speed production for increased output
Ability to create made-to-order product
Ability to weld multiple rolls of same or different thickness together at one time.
"Humphrys has been extremely satisfied Weldmaster's ability to make us custom heat seaming machinery that has improved our productivity and reduced our labor costs. We consider the purchases of our various Weldmaster equipment a cost saving investment in our future growth." - Humphrys
Still have questions? Contact one of our automated specialists to discuss your production and potential options.
Miller Weldmaster will help you select the right solution for your application.