Machine à souder à double paroi T300 Extreme Curve
Pour la soudure de tissus à double paroi
L'option à double paroi T300 Extreme Curve de Miller Weldmaster est conçue pour augmenter la production et créer des coutures étanches à l'air et à l'eau sur une variété de tissus sans colle.
En éliminant la colle, la machine T300 Extreme Curve réduit la manipulation du tissu ainsi que le coût supplémentaire de la colle et du travail. En utilisant la technologie à air chaud, cette machine soude des tissus à double paroi qui sont de plus en plus populaires dans des applications telles que les fonds de bateaux gonflables, les planches de paddle, les tapis de gymnastique, etc.
CARACTÉRISTIQUES ET AVANTAGES
Découpe avec précision des motifs avec des bords nets et droits grâce à la coupe à ultrasons personnalisée
Coupe continue avec la lame et le refroidisseur personnalisés
Le système de coupe coupera et collera temporairement les panneaux supérieur et inférieur ensemble, empêchant tout mouvement pendant le processus de soudage
Technical Specifications
Power Requirements:
208-240 Volts – Single Phase – 25 Amperes
380-400 Volts – Single Phase – 16 Amperes
Air Requirements:
100 PSI @ 2 CFM
Power Consumptions:
6Kw
Maximum Temperature:
Hot Air: 730o C – Hot Wedge: 450o C
Throat Width:
1m (300cm)
Dimensions:
Width: 600mm
Length: 1.5m
Height: 1.5mm
Weight: Approx. 231KG
Seam Width:
10 to 50mm (1/2" to 2")**
Welding Cycle:
Up to 30m/min (100ft/min)*
*Depending on the application, the seam width, and the type of material used
**Additional guides might be necessary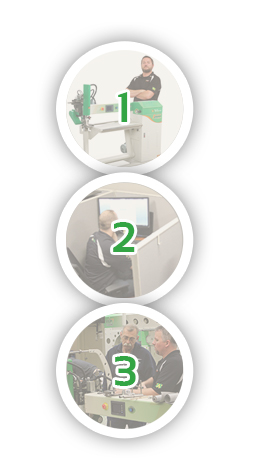 Formation et installation professionnelles
Faites confiance à Miller Weldmaster pour commencer!
Un technicien d'entretien sur site agréé par Miller Weldmaster vous contactera pour planifier l'installation et la formation dans vos installations.
Nous vous expliquerons tout ce que vous devez savoir pour préparer votre équipe à l'installation et à la formation.
Votre personnel recevra des instructions détaillées sur le fonctionnement et la maintenance de l'équipement de soudage et sur la fabrication de votre produit.
La plupart de nos clients fabriquent ainsi des produits finis dès la fin de la première journée.
Télécharger le document de pré-installation
Entretien
Pour vous servir, vous et votre entreprise! Le centre d'entretien et de résolution de Miller Weldmaster est composé de nos ingénieurs d'entretien sur site pour un délai de réponse rapide.
SOCIAL
Sign up to be part of our MW Insiders where you will get updates on machine updates, frequently asked questions and tech tips. Put us in the hands of your operators to help ensure you are making money with your machine.'
SIGN UP
Facebook, Twitter, Linked In and Pinterest are just another way to stay involved with Miller Weldmaster. See our company culture; get updates on upcoming events, new products. A simply means to stay connected.
DOWNLOADS
Contactez-nous
Copyright 2020 Miller Weldmaster. All rights reserved
Privacy Policy
Miller Weldmaster Corp
4220 Alabama Avenue
Navarre, Ohio USA 44662
P: 330-833-6739 | F: 330–837-2828
Stay up to date with our bi-annual newsletter!
Learn about company activities, new machines,
hear from our Field Service Engineers and more.
Newsletter Sign Up