Triad Extreme Universal Welding Machine
Portable welder for varied production needs
The Triad Extreme Universal is an all-around wedge welding machine for a production that needs multiple machine capabilities. This machine is equipped to handle multiple types of fabrics and weld seams, and can create a broad range of plastic welded products.
Like the other machines in the Triad line, the Universal wedge welder can be configured as a stationary welder or as a tabletop track welder. Either way, the machine is simple to use, takes up only a small amount of space, and creates perfect seams every time.
What do people make with the Triad Extreme Universal?
The Triad line of wedge welding machines is known for the versatility and ease of use for any type of production setting. The Triad Extreme Universal is capable of creating products made from woven polypropylene and polyethylene, coated or laminate PVC, polypropylene, acrylic, and more!
Because the machine can handle such an array of materials, it is also capable of creating a wide range of products. Some of the possibilities include:
Tents
Tarps
Pool covers
Truck panel covers
Marine covers
Awnings and shades
If you're curious about whether your application can use the Triad Extreme Universal, contact us today to talk through your production needs.
SEE THE SIMPLICITY AND EFFICIENCY
Using a Triad Extreme Universal machine is as easy as pressing a button. Because the machines are designed to be self-explanatory, you won't find complicated controls on its control panel. Instead, the usage is very easy to learn, and your staff will receive training upon installation of the machine.
These videos also show the patented wedge alignment technology. This self-alignment minimized the effect of human error by self-correcting and placing the weld in the right place every time.
Also highlighted in these demonstration videos is the size and portability of the Triad Extreme welding machines. This line is perfect for a production floor with limited space, or one where you would need to move machines around regularly. The versatile configuration makes it easy to move and rearrange your space as needed, unlike a bulky machine that stays put for years on end.
FEATURES AND BENEFITS
Multiple seam configurations available for multiple finishing demands
Excellent visibility of the welding area
Swing-out wedge provides for easy cleaning
Stationary or automatic travel on track for hands free operation
Available in either 110V or 230V to suite your facility requirements
THOUSANDS OF PRODUCTS BEING PRODUCED…
Customers worldwide are becoming more efficient in producing everyday products seamlessly. The versatility and portable design of the Triad Extreme Universal allows any owner to produce an array of products at high speeds.
PROVEN HOT WEDGE TECHNOLOGY 
No more guessing!
The patented, self-centering wedge provides accurate placement every time. For over 40 years, hot wedge welding has been a proven technology used for many applications. It is the technology of choice for industrial welders and customers worldwide.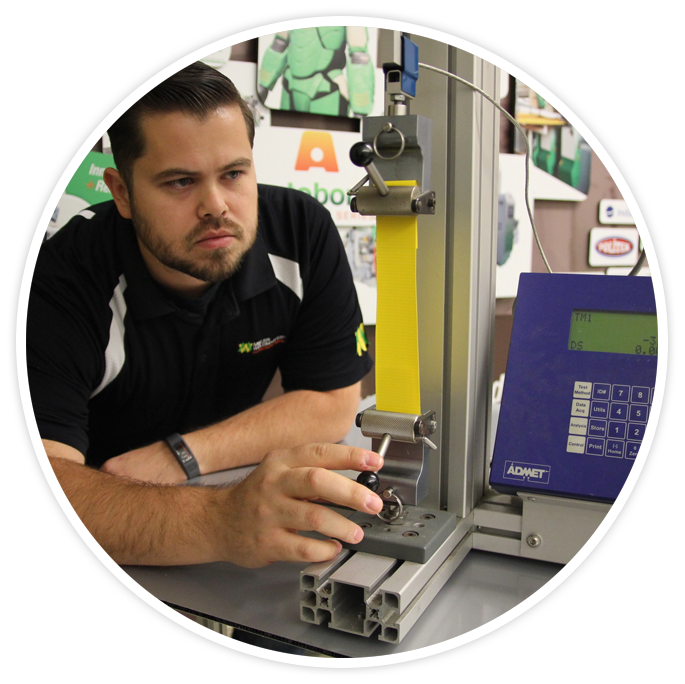 Long application seams…
The Triad Extreme can be configured with track to accommodate any length of travel. Track is available in 5′ sections and allows the Triad Extreme to be self propelled finishing your seams with minimal material handling.
 You won't find better quality service or support.
- Economy Tent
BUILT TO LAST
QUALITY & RELIABILITY
Lean manufacturing principles
Solid steel frame design
500+ years combined engineering experience
Designed and built for multiple decade use
REAL WORLD
Built for multiple shift production
Low maintenance for extended up time
Industry known for longest lasting machines
First and last machine you will need for welding
" Thank you for making a machine that lasts. It is nice that we had a machine that lasted as long as some of our boats and that you believe in building a machine with longevity."
Jack's Plastic Welding
SERVICE
Committed to you and your business! 
Miller Weldmaster Field Service Engineer staffed service and resolution center
Fast response time from a live person
Parts and service with offices in Ohio, California, and Europe
20 Trained Partners worldwide for international service and support
"If we don't take care of our customers… Someone else will!"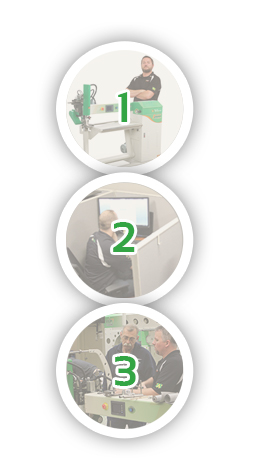 PROFESSIONAL INSTALLATION AND TRAINING
All you need to know!
One of our certified Field Service Engineer will contact you to schedule your installation and training day at your facility
We provide you with everything you need to know to get your sit and team ready for their day of installation and training
Your staff will receive extensive training on operation, maintenance and most importantly how to make your product.
No experience needed to operate your new welder. However our most successful operators have good eye-hand coordination and are committed to creating a quality product.
Most of our customers are making finished products by the end of the first day!
SOCIAL
Sign up to be part of our MW Insiders where you will get updates on machine updates, frequently asked questions and tech tips. Put us in the hands of your operators to help ensure you are making money with your machine.'
SIGN UP
Facebook, Twitter, Linked In and Pinterest are just another way to stay involved with Miller Weldmaster. See our company culture; get updates on upcoming events, new products. A simply means to stay connected.
CONTACT US
Copyright 2020 Miller Weldmaster. All rights reserved
Privacy Policy
Miller Weldmaster Corp
4220 Alabama Avenue
Navarre, Ohio USA 44662
P: 330-833-6739 | F: 330–837-2828
Stay up to date with our bi-annual newsletter!
Learn about company activities, new machines,
hear from our Field Service Engineers and more.
Newsletter Sign Up
We use cookies on this site to enhance your user experience. By continuing to use our site, you agree to our cookie policy.
Ok