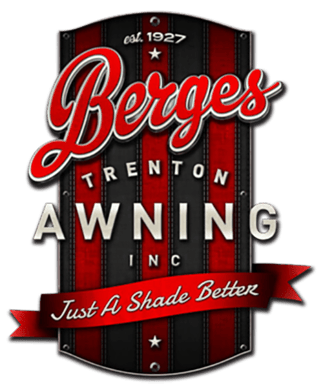 Berges Trenton Awning might be an old company, but they're not an old hat. Remaining current in their knowledge and innovations, but holding onto the past is what makes this company a great one to work with. Berges Trenton Awning opened its doors in 1927, and since then a whole line of Berges has continued to set the bar high and carry out the famous motto, "Awnings just a shade better."
This family-owned business has come from humble beginnings and grown into a multi-faceted business with a bright future. Partnering with a cutting edge global leader, like Miller Weldmaster, has helped them to make huge strides.
Background
Located in Pleasantville, New Jersey, Berges Trenton Awning works directly with customers to find an awning that meets their needs – whether it be for one window, a whole house, or a commercial building. The awning company has been owned and run by the Berges family for four generations, and they pride themselves on manufacturing all products in house since the day they opened.
Challenge
Berges Trenton Awning was using sewing machines dating back from 1905 until the day they bought a Miller Weldmaster machine in 2011. A main part of their manufacturing operation is overlapping fabric to create the body and side wing panels of awnings. Sewing the overlapped fabric was creating reliable awnings, but the double needle stitch left a 'railroad' pattern. The idea to transition from sewing to seaming caught their attention when they noticed the seamless look on finished products of other industrial applications' such as truck tarps and tensile structures. Berges Trenton Awning quickly realized that seaming might be the perfect solution to improve the look of their residential and commercial awnings.
Solution
The search for a seaming solution began online, but after the Berges met a Miller Weldmaster representative at a tradeshow, they knew they needed to look no further. "Miller Weldmaster wanted to help us find the right solution for our business, and they worked with us all the way through the sale. We really appreciated that we could talk to somebody who was knowledgeable about the products and who was truly interested in advancing our company," said Nate, fourth generation. "The longevity of the machine and the fact that it was U.S. made were also great selling points."
Results
Increased product life. At the end of each year, Berges Trenton Awning was focusing a good amount of their time on awning repairs; however, after the introduction of seaming, 100 year end repairs quickly became 30. And, the number gets incrementally smaller each year as new awnings now incorporate welded seams instead of traditionally sewn seams.
Improved aesthetics. "Seaming gives the awnings a look that cannot be manufactured with sewn seams. Customers really appreciate the smooth, continuous look achieved with seaming," said Nate Berges.
Fewer leaks. The bond between the edges of the awning fabric is stronger than before. Replacing the perforation created by the double needle sewing machine with welding allowed for a continuous, waterproof seam.
Consistency. Berges Trenton Awning has seamed their awnings for over a few hundred hours, and the machine performs just like the day they bought it.
"Transitioning from sewing to seaming was one of the best decisions our business has made," said Nate. When asked if he could give advice to others considering a similar transition, Nate said, "There are times when the industry advances and it isn't a bad idea to take a leap with it. If you are able to find a reason to move with the change, and your research concludes that it will advance your product, don't be afraid to take the next step. It might be just what you need to stay ahead of the curve and produce a product that keeps the leading edge on innovation and aesthetics."
Contact Miller Weldmaster today to learn more about awning welding machines, or click here to find your ideal welder in four quick steps.
Want to learn more about Miller Weldmaster or their customers' success? Connect with Miller Weldmaster and Berges Trenton Awning on Facebook.