Meet Miller Weldmaster's President, Brent Nussbaum. Brent oversees the company's daily operations and has experience in practically all areas of the business. He is knowledgeable about the product and constantly highlights the value of providing for our customers. Brent leads Miller Weldmaster as we strive to offer our clients the greatest support.
How long has Brent been with Miller Weldmaster?
Brent's journey with Miller Weldmaster spans an impressive 25 years, a testament to his unwavering dedication and commitment to the company. Remarkably, he embarked on this professional endeavor at the young age of 16, an early start that speaks volumes about his passion and drive.
Joining Miller Weldmaster in 1998, Brent arrived during a vastly different era in history. He has witnessed firsthand the transformative growth and evolution of the company into the successful entity it is today. Throughout numerous challenges and adversities faced by the office, Brent's unwavering work ethic and commitment have been instrumental in overcoming obstacles and propelling the company forward.
What positions has he held during his time at MW?
Brent's journey with Miller Weldmaster commenced during his high school years, as he embarked on a co-op program in our esteemed machine shop. He has held a variety of positions in several divisions, all of which have added to his depth of knowledge of the machines and full understanding of the business.
Brent used his technical knowledge to ensure the production of products of the highest caliber. His time spent in engineering helped him improve his analytical abilities and problem-solving capabilities, which he then used for innovation and design processes.
He has also had success in sales. This was fueled by his field service expertise, which gave him a comprehensive understanding of customer difficulties and real-world applications. Thanks to his in-depth understanding of the business's internal operations, he skillfully displayed the company's potential and created valuable collaborations. Brent improved efficiency and promoted operational excellence in operations by improving workflows.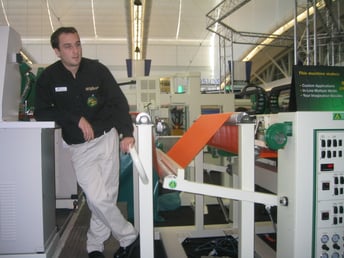 What led Brent to work at Miller Weldmaster?
Brent was required to shadow a person in a potential professional sector for a project while he was a sophomore in high school. He came to Miller Weldmaster to see a machinist, and on the spot, he was given a job offer. He was actually too young to be employed at the time, but after turning 16, he got in touch with CEO Scott Miller again to inquire about the offer's status. Since then, he has been working here and is extremely happy with his job. From working as a co-op, through production, engineering, and sales, Brent has touched every aspect of the business and it shows in his leadership style. Even today, Brent is not afraid to go back and turn the wrench on a machine and help work through a technical problem with the engineers. While he is currently the President, Brent still knows all that goes on throughout the shop.
Why has Brent stuck around for 25 years?
Brent is truly invested in our automated equipment. "I love seeing how it revolutionizes our customer's businesses. From the initial concept and basic idea to seeing the machine run the final product and unveiling it to the customer for the first time; it's really rewarding."

Miller Weldmaster is appreciative and privileged to work with such a wonderful person. Brent, we appreciate your 25 years of dedication to our client's needs and all your hard work. Here's to many more years!