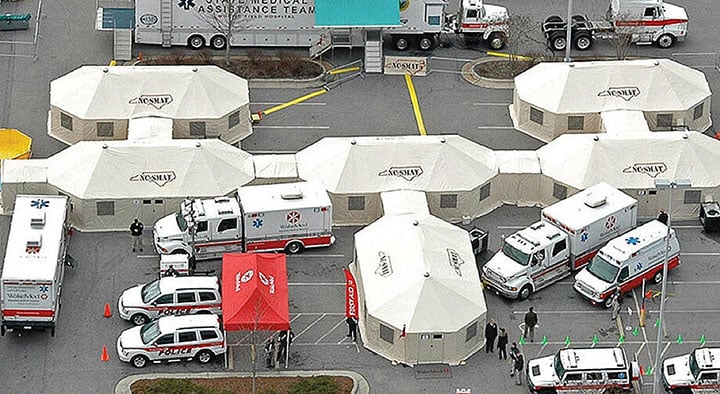 Around the world, emergency medical tents are being raised to help combat coronavirus.
"The tents will be critical in helping us limit the spread of the disease between patients and staff," hospital officials at Mount Sinai hospital said in a statement, adding that they will also expand the emergency room "footprint."
At hospitals in America, tents are being raised in preparation for a surge of coronavirus patients. The tent manufacturing community is mobilizing their technology, experience and production capacity, to decrease infection rates.
The emergency tents can be used for many coronavirus needs. Some of the applications being used for emergency tent shelters include; drive through testing, patient registration and screening, food distribution, storage and as emergency relief shelters.
Most importantly, they may isolate people sick with coronavirus in the event of a medical surge, where the capacity to treat patients at hospitals exceeds their number of beds and space. In emergency situations such as COVID-19, the portability, adaptability and easy sterilization of a tent structure can be more useful than brick and mortar.
Two of our customers that are working hard to keep up with demand are Western Shelter Systems in Eugene, Oregon and American Tent in Green Bay, Wisconsin.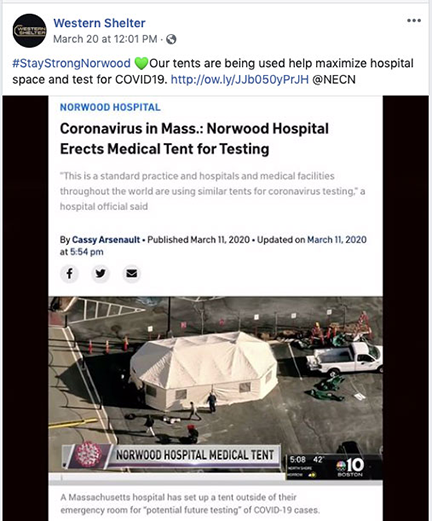 For over 30 years, Western Shelter has been used to respond to infectious disease outbreaks all over the globe, including the recent COVID-19 outbreak. Western Shelter has become the preferred choice for the disaster and medical response communities, with FEMA US&R teams using them exclusively in response to every major hurricane over the past 24 years.
Currently, Western Shelter tents are being used as mobile hospitals, isolation units, respiration waiting rooms, triage, pharmacy drive-up and corona virus screening.
Western Shelter has even established a 24-hour hotline for customers with questions regarding their shelter systems and isolation units in response to the current Coronavirus (COVID-19) outbreak.
"We are experienced and ready to respond in whatever way we are needed. We have a dedicated sales and operations team ready to help — whether it be deploying a field hospital, setting up a drive thru testing clinic or creating needed isolation units. We stand by ready to help in any way we can" said Bryan Hunt, Western Shelter Sales Director. "Part of that includes being available during even the toughest of times, like our customers are."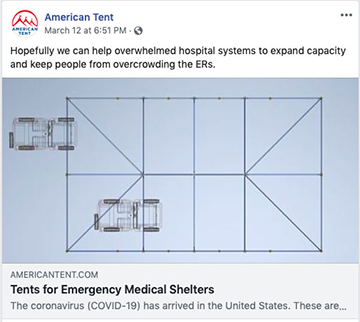 American Tent & Sidewall is a family-owned and operated manufacturer of frame tents and sidewalls located in Green Bay, WI. They offer unique just-in-time manufacturing capabilities and are busy helping overwhelmed hospital systems to expand capacity and keep people from overcrowding the ER's.
Their portable medical tents are in high demand because they offer a great solution for emergency situations. Their series of frame tents can be set up quickly and easily, with minimal equipment and personnel and are compact so they can easily be shipped and stored.
American Tent has experience in providing medical and disaster relief. After the devastating earthquakes in Puerto Rico, American Tent was the chosen provider of over 100 commercial tents. But they didn't just make the tents, they also personally delivered the tents and stayed to train and assist in the set up.
"Believe it or not, we did not cover "Handling a Global Pandemic as a Small Business Owner" in business school. These are uncertain times. We are doing our best to stay safe and stay healthy." Said Tony Ehrbar, American Tent President. "We've made a few changes lately, the biggest change being truly leaning into one of our core values: Family First. It's times like these when you're reminded what matters most. For us, that's our families and our American Tent family."
If you would like the latest government and industry information and resources during the COVID-19/Coronavirus pandemic, click here.
Is your company helping in the fight against COVID-19? We would love to hear from you!