Located in Delphos, Ohio, D&D Ingredients has been serving the feed industry for over 30 years. The company continues to evolve today, striving to meet customer needs as the demand for animal feed ingredients grows.
The company currently serves feed manufacturers and pet food industry partners in over 13 states and seven countries. Partnering with Miller Weldmaster has helped them to continue to deliver exceptional, quality products to their customers, and gives them hope for continued company growth.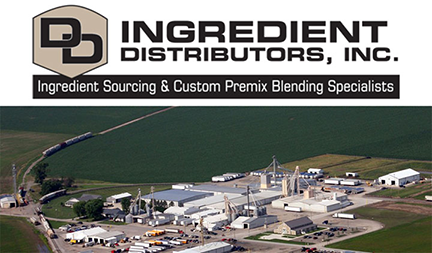 Background
In 1976, D&D Ingredients started out as an oats cleaning business for the horse industry. The company served as a second income for founders Donald and Dorothy who were raising a family of seven children. Donald was working as a service manager for Delpha Chevy, when a long time customer expressed that he wanted to sell his oats cleaner. Donald took a chance, purchased the cleaner and began buying oats from local elevators and farmers. He then sold the oats and started shipping them to Kentucky for racehorses. Over time, Donald began to sell more than just oats and expanded the company's services. D&D Ingredients now offers more than 200 ingredients and offers services such as custom packaging, grinding, drying, blending, warehousing, rail loading and unloading, and transportation.
Challenge
D&D Ingredients was working on a specialized job for a large company that needed a tougher bag to hold up during overseas shipments. The company's bags had a liner inside that needed to be zip tied and folded, which took a lot of man power. The plain craft bags were also being stitched closed, which did not offer a 100% reliable seal.
Miller Weldmaster Solution
Dedicated to putting customer needs first and willing to try anything to help the company grow, D&D Ingredients began searching for a way to create a more durable bag for their valued customer.
Another D&D customer recommended Miller Weldmaster. When D&D saw Miller Weldmaster's machines at a Chicago tradeshow, they were extremely impressed with the way they sealed, and thought the PS150 would be the best option for creating a rugged, air-tight bag to make the trip overseas to their customer.
The D&D Ingredients crew traveled to Miller Weldmaster to learn more about the machine. "They took a lot of time to show us how the machine worked and all the different features of the machine. So, we were very comfortable with the machine when we got it onsite at D&D Ingredients," said Arnie Miller, Production Manager.
Miller was most pleased with Miller Weldmaster's service after sale. "The best part about working with Miller Weldmaster was the constant contact and relationship built with the technician who came out to our site, especially when we were first starting to use the machine," said Miller. "The technician who comes out here whenever we need maintenance knows the machines inside and out. He came onsite when we were ready to close our first bags to make sure we were all set up correctly, and he demonstrated how to line up and feed the bags into the welder."
Results
Improved efficiency. D&D Ingredients was able to decrease the number of employees on their production line from seven to five.
Increased durability. D&D Ingredients felt confident in shipping their new air-tight, durable bags to a valued customer.
Contact Miller Weldmaster today to learn more about package sealing machines, or click here to find your ideal welder in four quick steps.