Awnings have been used for centuries to provide shade and protection from the elements. At both home and business, awnings can be used in countless situations. Originally made from materials like canvas or leather, awnings have come a long way in terms of design and functionality. Today, awnings are commonly made from synthetic materials like acrylic or polyester and can be found on homes, businesses, and other structures.
History of Awnings and How They Are Used Today
The history of awnings dates back to ancient Egypt, where they were used to provide shade and protection from the sun. In ancient Rome, awnings were used to protect spectators at outdoor events, and in the Middle Ages, they were used to protect merchants and their goods from the elements while they were at the market.
Today, we used them in a similar way. As you walk through the market or downtown, you see countless awnings and overhangs along the street. Go to a farmers market and you will see pop-ups and numerous other awning applications. They can be retractable, allowing them to be easily opened or closed depending on the weather, and can be motorized for added convenience.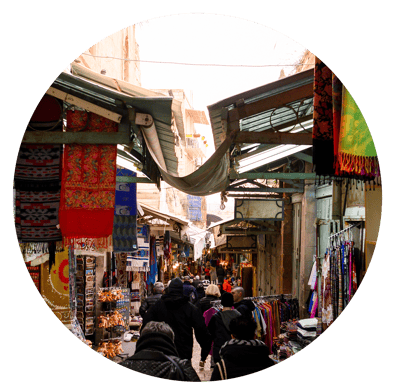 Image: Street market
What Are Awnings Made Of Today?
Canvas awnings are a popular choice because they are durable and long-lasting. They are also resistant to water and fading, making them a good choice for areas with high levels of sunlight. Acrylic and polyester awnings are also popular choices because they are lightweight, easy to clean, and resistant to fading.
Acrylic is one of the most common materials used today. Just as the material has changed, technology needs to change and adapt as well. The demand for longer-lasting, waterproof awnings continues to increase. Leading to improvements needed in the technology needed to produce their awnings.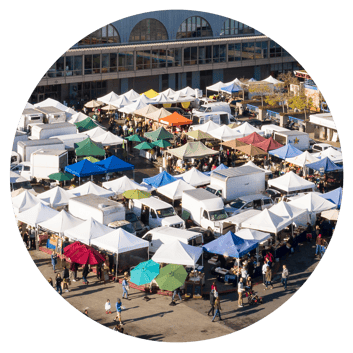 Image: A modern-day farmers' market
Sewing vs. Hot Wedge Welding
Sewing has been the method of making awnings for a long time. Before machines and sort of technology, awning makers would hand-sew large panels together. As time went on, it went from hand sewing to automated sewing machines. Then, as awning customers requested more waterproof and secure seams, they made the transition to hot wedge welding.
Miller Weldmaster has helped manufacturers successfully transition from sewing to welding for their awning sealing. Sewing machines create a "railroad" pattern with a double stitch that's more prone to leaks. Welding provides a seamless look that does not perforate the fabric. Smooth, continuous seaming creates a better-looking product that won't need frequent repairs
For awnings, shade, and marine applications, welding offers a more seamless look with a stronger bond for increased product life.
Why buy a Miller Weldmaster Machine?
With a Miller Weldmaster machine, you are not restricted on what material you can use. MW offers acrylic and PVC fabric welding machines for any size operation. A welding machine can increase productivity and efficiency while creating a better-looking, longer-lasting product.
Hot wedge welding provides customers with an all-around better seam. Instead of sewing, which weakens the material and puts holes in the material, hot wedge welding bonds the panels together. Providing a waterproof seal and a seam that will outlast the awning.
When transitioning from sewing to welding, you may be intimidated by the number of machines out there that use Hot Wedge technology. Especially when you are just starting out or looking to start small, you may be wondering what machine will work best for you. That is where the Miller Weldmaster Triad Extreme Awning comes in! The Triad Extreme Awning is an all-in-one track welding machine that comes fully assembled and ready for awnings. Built with a tape dispenser, this track welder works great for acrylic awnings using hot wedge technology. If you are looking to ease into the hot wedge, or you need to expand your operation, the Triad Extreme track welder is an affordable, easy-to-use, machine for you!
Miller Weldmaster carries a large line of awning machines. Be sure to check out the industry page on awnings and technology to learn more!
Conclusion
Awnings are a practical and stylish addition to any home or business. Whether you're looking for protection from the sun or rain or want to add some visual appeal to your building, awnings are a great option. From ancient Egypt to modern times, awnings have proven to be a useful and versatile solution for providing shade and protection from the elements.
If you want to produce stronger, longer-lasting products, you can benefit from a Miller Weldmaster machine. Contact us, and we'll help you find your ideal welder.