Digitran - An Industrial Sewing Machine
Innovation Through Performance
A complete sewing solution! Now finish all PVC banners and signs or sew digital textiles with Silicon Edge Graphics (SEG). Allow the Digitran to taking your production to the next level.
FEATURES AND BENEFITS
Transport system synced with sewing machine for accurate and precise flow of material handling and product finishing
Hands free SEG feeding and cutting
Programmable back stitch configuration and stitch cut for easy operational use
Synchronized needle bar and feed for even stitching
Needle cooling for faster sewing
Multiple seam configuration for almost any type of job
Light aluminum frame for easy mobility around your facilit
Easy to use touch controls
Driven roller for large graphics
Robust Durkopp Adler sewing machine for maximum up time
WHAT IS SEG?
SEG is a high-resolution dye-sublimated fabric graphic finished with a thin silicone strip. The silicone strip is sewn to the edge of the fabric graphic, and then the strip is inserted into a frame with a recessed groove. The fabric should be taut when installed in the frame, and the result is a large format graphic. This type of digital textile format is popular for tradeshows, outdoor flags and banners, and indoor retail applications.
SEG is quickly becoming the norm in the digital textile market for many reasons, including:
Quick assembly
Reduced shipping, installation and storage costs
Lighter, more durable, more vibrant fabric
More finished appearance than traditional fabric graphics
Visit SEGFrames.org for the one-stop resource for all things Silicone Edge Graphics
THOUSANDS OF PRODUCTS PRODUCED…
Customers worldwide are becoming more efficient in producing everyday products seamlessly. Banners, Signs and now SEG digital textiles are being finished faster and easier than ever before.
Miller Weldmaster is a class act, from the sales department to service. You guys truly are a company that stands behind your product.
- Ferrari Color
BUILT TO LAST
QUALITY & RELIABILTY
Lean manufacturing principles
Solid steel frame design
500+ years combined engineering experience
Designed and built for multiple decade use
REAL WORLD
Built for multiple shift production
Low maintenance for extended up time
Industry known for longest lasting machines
First and last machine you will need for welding
" Thank you for making a machine that lasts. It is nice that we had a machine that lasted as long as some of our boats and that you believe in building a machine with longevity."
Jack's Plastic Welding
SERVICE
COMMITTED TO YOU AND YOUR BUSINESS!
Miller Weldmaster Field Service Engineer staffed service and resolution center
Fast response time from a live person
Parts and service with offices in Ohio, California and Europe
20 trained partners worldwide for international service and support
" If we don't take care of our customers…someone else will."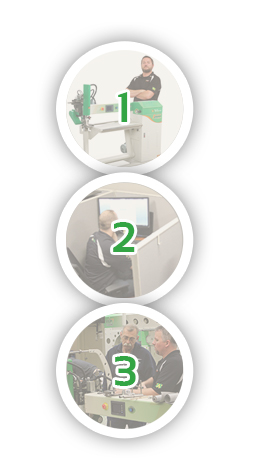 PROFESSIONAL INSTALL AND TRAINING
ALL YOU NEED TO KNOW!
One of our certified Field Service Engineers will contact you to schedule your installation and training day at your facility.
We provide you with everything you need to know to get your site and team ready for their day of installation and training.
Your staff will receive extensive training on operation, maintenance and most importantly how to make your product.
No experience needed to operate your new welder. However our most successful operators haave good eye-hand coordination and are committed to creating a quality product.
Most of our customers are making finished products by the end of the day!
SOCIAL
Sign up to be part of our MW Insiders where you will get updates on machine updates, frequently asked questions and tech tips. Put us in the hands of your operators to help ensure you are making money with your machine.'
SIGN UP
Facebook, Twitter, Linked In and Pinterest are just another way to stay involved with Miller Weldmaster. See our company culture; get updates on upcoming events, new products. A simply means to stay connected.
CONTACT US
Copyright 2020 Miller Weldmaster. All rights reserved
Privacy Policy
Miller Weldmaster Corp
4220 Alabama Avenue
Navarre, Ohio USA 44662
P: 330-833-6739 | F: 330–837-2828
Stay up to date with our bi-annual newsletter!
Learn about company activities, new machines,
hear from our Field Service Engineers and more.
Newsletter Sign Up
We use cookies on this site to enhance your user experience. By continuing to use our site, you agree to our cookie policy.
Ok