A cured-in-place pipe (CIPP) is a trenchless rehabilitation method used to repair existing pipelines. It is a jointless, seamless, pipe lining within an existing pipe. The process of CIPP involves inserting and running lining into a pre-existing pipe that is the subject of repair. CIPP linings use a thicker, heavier, resin impregnated liner, such as polyester or fiberglass cloth, that cure within the damaged pipe to a hard, structural finish, essentially creating a pipe within a pipe.
The 5 Factors to Consider When Choosing the Right Machine to Weld Your CIPP Liner.
Manufacturing cured in place pipeline (CIPP) liner requires many considerations and a wide range of manufacturing solutions. Because of significant market variability, manufacturers and material suppliers must be able to offer product diversity and consistent quality output.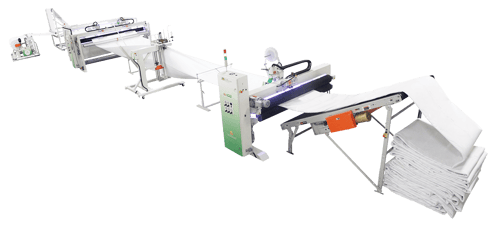 When designing your custom machine, the important factors to consider are:
Factor 1. Know the automated systems required to produce your CIPP products
Unwind

A heavy-duty unwind is needed to meet the demands of CIPP.

Heavy duty puller

To move your product through the system.

A guiding & web control closed looped system

This will ensure proper tension and alignment of the product into the sewing and welding areas.

Seam bonding system

It may be required to have more than one type of seam bonding system to weld, sew and/or extrude or multiple combinations.

Output system

A consistent and quality output system for your outflow.
Factor 2. Know your fabric options
Non-wovens
Felt Liners

Coated with polypropylene (TPO), polyurethane (TPU), polyethylene or PVC
Factor 3. Know your seam options

Factor 4. Know your end-product considerations
Diameter ranges
Ability to weld multiple rolls of same or different thickness
Positioning of each seam within the different layers

Ability to invert -

without damaging the integrity of the resin at the seam

Absorption of resin at the seam
Factor 5. Know your capabilities
Make to order

Greater flexibility for customization
Reduce risk of inefficiency
Minimize waste

Make to stock

Insurance against increased demand
Planning for seasonal changes
Guarding against price increases
Accessing discounts

Packaging

Visual appeal
For ease of shipment
Protection of product

Shipping

Cost

Dimensional weight
Custom duty, tariffs or taxes
Surcharges
Insurance

Destination

Shipment speed
Target destination

There are many options and choices to be made within those five factors. Assessments must be made on your current capabilities and long-term goals. Fortunately, Miller Weldmaster has the expertise and experience to guide you every step of the way. Working with an industry expert will ensure every important consideration has been examined.
Working with a custom machine expert will ensure the delivery of a solution that will stand the test of time. An automated solution will increase your output and decrease your labor, allowing you to provide an affordable, long-term solution to your customers.
To learn more about our custom solutions for the CIPP industry, please contact sales@weldmaster.com or visit: https://www.weldmaster.com/industries/cured-in-place