Below is a summary of the Q&A we recently had with a supplier of weldable zippers, Paskel Zippers. Read below to learn the basics on who, what, where, when, why, and how weldable zipper is used in the industrial fabric industry.
1. Who

uses weldable zipper?
Any company that welds thermoplastic coated textiles or has the desire for air and watertight seams. Welding your zippers will provide you a near invisible seam. Many companies who use weldable zipper manufacture products such as:
Modular Structures
Inflatables
Ventilation ducting
Tents (Military Tents, Marquee Tents)
Window Screens
High Speed Doors
Curtain Side Vehicles
Signage
Freezer Doors
Protective Clothing
Awnings, Blinds and Shades
& More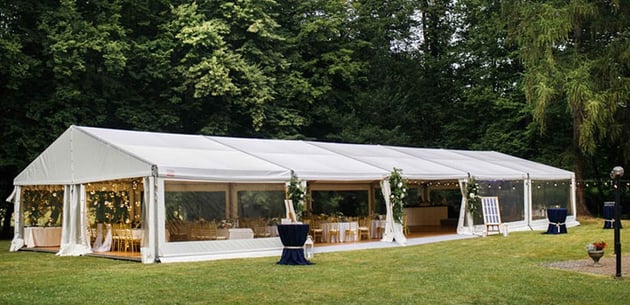 2. What

is weldable zipper made of?
As weldable zippers are designed to be welded onto the fabric instead of being stitched, the zipper must consist of weldable material or have weldable material added to it. The two most common ways this product can be made:
Coating the polyester zipper tape with a weldable film - PVC, PE etc.
Have the zipper tape woven with polyester and PVC, PE thread. This method provides a stronger and cleaner bonding to the fabric.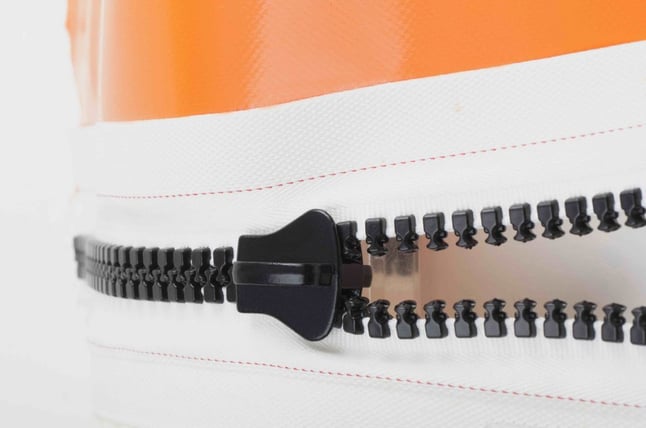 3. Where

is it used in the industrial fabrics industry?
Weldable zippers are rapidly gaining popularity over the standard zippers for all the advantages listed further below.
Connecting heavy duty fabrics together (Modular structures, Marquee tents, Athletic field covers, Inflatables)
Connecting fabric to metal / plastic frames or tracks (High Speed Doors, Window screens, Keder tracks)
Where sealing and appearance is important (Protective clothing)
When water tight seams are necessary (Outdoor Awnings or Shades)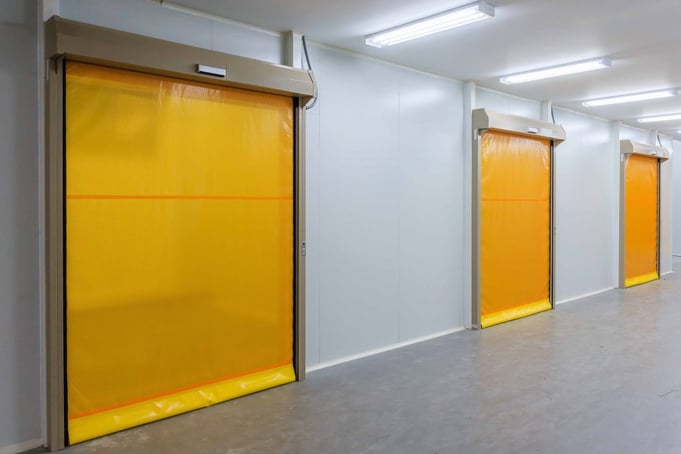 4. When

do you use a small zipper vs a larger zipper?
Smaller Zippers (3mm-7mm) are typically used on lighter applications such as window screens, protective clothing, and more.
Larger Zippers (10-20mm) are used for heavy industries such as modular structures, inflatables, marquee or giant military tents, ventilation ducting or athletic field covers.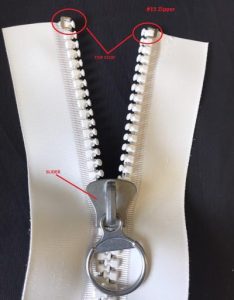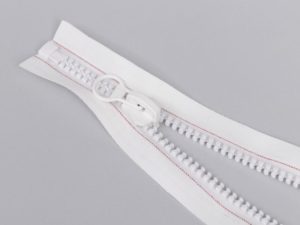 5. Why

use weldable zipper rather than sewing it?
No needle holes – Increases sealing properties of the fabric and creates waterproof seams
Appearance – Accurate and cleaner look in bonding the fabric
Speed – Quicker application of welding vs sewing
Reduce Consumable Purchases- Eliminate the need for needles and thread
Sewing Skills are hard to find – This is a decreasing trade in the industry and welding is growing
Smooth Production – No thread breaking, grommeting, lacing, loops, or sewing jams.... just continuous production!
Weldable zipper can be used with a variety of welding technologies. From hot air welding, hot wedge welding, impulse welding or radio frequency welding. Talk to an expert to find out which technology is best suited for your specific products.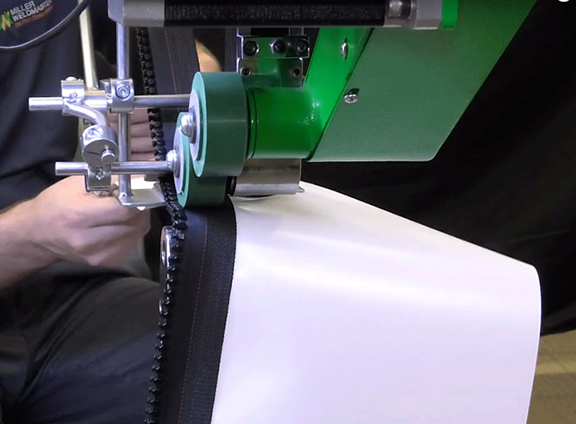 6. How do you weld it on your products?
Step 1 – Make sure you are welding the same material together. (Ex. Polyethylene to Polyethylene, PVC to PVC) This step will guarantee a strong and consistent weld. However, many of the adhesives applied to zippers work on a wide range of products. It is important to TEST your material first.
Step 2 – Adjust to the proper welding settings on your machine. Companies typically preset a recipe specific to your fabric.
Step 3 – Properly place the weldable part of the zipper into your guide and make sure it is lined up with your fabric when welding.
Step 4 – Start welding!