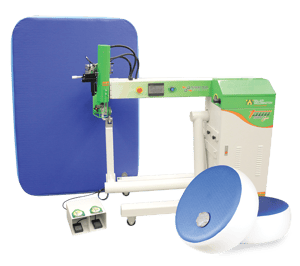 Double-wall or drop stitch fabric is becoming increasingly popular with applications such as inflatables, paddle boards, gym mats, and more.
What Is Double-Wall / Dropstitch?
It's a coated nylon joined by thousands of vertical fibers that are uniform in size. The distance of fibers can vary in sizes and the panels are covered with polymer coatings to form an air tight cavity. When double-wall (dropstitch) fabric is welded into the desired shape and pressurized with air, it is transformed into a strong, hard surface.
Double-wall fabric benefits:
Double-wall fabrics can be used to manufacture inflatable products that are lightweight and easy to transport yet are rigid and structurally stable.
Created using a 3D weaving process
Has a smooth surface structure
85% more tensile strength than knitted drop-stitch fabric
Favorable adhesion during the welding process
Products produced using double-wall fabrics include:
Paddle Boards
Inflatable Boat Bottoms
Athletic Mats
Water Mats
Air Tracks
Inflatable Dock Systems
Cushions to Secure Cargo
Work Tents
Inflatable Molds
Absorbtion Cushions
and more…
With the characteristics of this material combined with the welding process, the possibilities are endless. Is double-wall fabric right for your applications
How is double-wall / dropstitch material cut?
Double-wall fabric is recommended to be cut with an ultrasonic cutter. An ultrasonic cutter allows. patterns to be precisely cut; producing clean, straight edges when welding.
First you will align the top and bottom panels for the fibers to match up
Mark your pattern where you want to cut
Clamp your material together and cut the pattern with Miller Weldmaster's Ultrasonic Cutter
Start welding your sidewall fabric. We recommend our T300 Extreme Curve Double-Wall for welding double-wall / dropstitch material

DOUBLE-WALL WELDING MACHINES
Contact us with any questions you may have about how to weld double-wall fabric or about our double-wall welding machine options.
With multiple technologies available, Miller Weldmaster will help you select the best technology for your application.
If you do not see your fabric listed on the left, please contact us and tell us about your fabric welding needs.